Academic tradition, international guests and speakers, panels, artists and festive gatherings will all be part of the weeklong celebration leading up to the inauguration of Daniele C. Struppa, Ph.D., as Chapman University's 13th president on Friday, Sept. 30.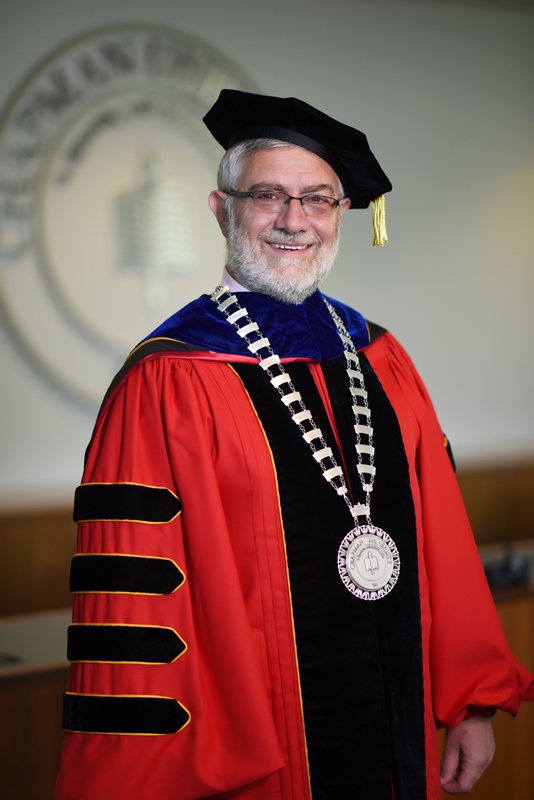 Among the highlights:
Capstone address by Sir Roger Penrose, one of the world's most preeminent quantum physicists, at 4 p.m. on Monday in Musco Center for the Arts.

Guest lecture by poetry scholar and critic Marjorie Perloff, Ph.D., on Monday at 6 p.m. in Argyros Forum 209.

A campus-wide picnic at noon on Friday in Attallah Piazza.

Many events are free to the entire campus community and City of Orange residents. Several require reserved tickets, including
A Celebration of Creativity in the Arts
on Thursday, Sept. 29, from 7:30 to 9 p.m. in Musco Center for the Arts. The evening will feature Werner Herzog, renowned German film director, producer, screenwriter and author, in a discussion moderated by Tamiko Washington, MFA, associate professor in the College of Performing Arts.

Musco Center seating to attend the investiture ceremony at 2 p.m. on Friday is by invitation only. The ceremony will be streamed live in Memorial Hall, Folino Theater and in the Student Union in Argyros Forum. Admission is free. All classes are canceled that day.
More Inauguration Details


Please consider the following resources to stay up to date with parking and ticket availability and all Inauguration Week festivities.