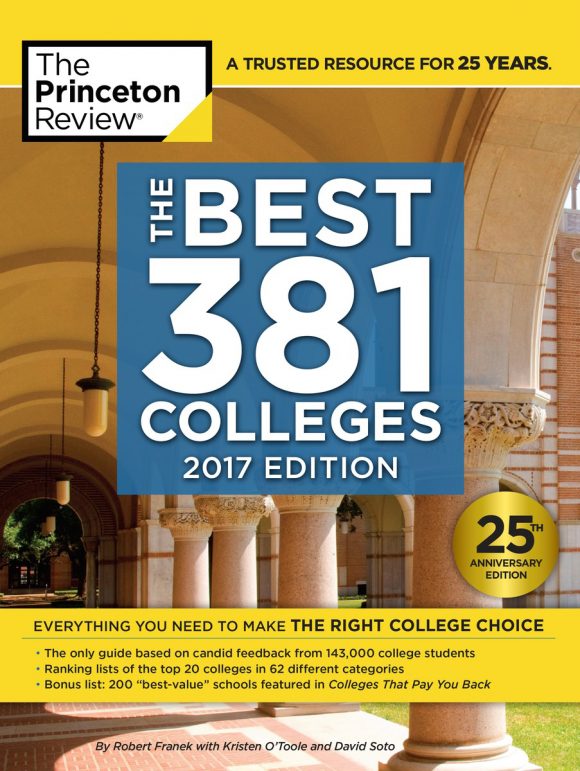 Chapman University is one of the nation's best institutions for undergraduate education, according to The Princeton Review.  The University is featured by the education-services company in the 2017 edition of its flagship college guide, "The 381 Best Colleges" (Penguin Random House/Princeton Review), putting Chapman in the top 15 percent of American colleges and universities.

"Chapman's outstanding academics are the chief reason we chose it for this book, and we strongly recommend it to applicants," said Robert Franek, Princeton Review's senior VP, publisher and author of "381 Best Colleges."  "We make our selections primarily based on data we collect through our annual surveys of administrators at several hundred four-year colleges. Additionally, we give considerable weight to observations from our school visits, opinions of our staff and our 24-member National College Counselor Advisory Board, and an unparalleled amount of feedback we get from our surveys of students attending those schools.

In its profile on Chapman, The Princeton Review praises the University for its "extraordinary blend of liberal arts, science, and professional programs," "academic preparation and wide breadth of excellence," and "park-like campus, which is also one of the most modern," and quotes extensively from Chapman students the company surveyed for the book.  Among their comments:  "The mood of the student body is very collaborative. Everyone wants to socialize and be friendly and meet new people" and "No matter what the interest is, whether it be Greek life, community service, their major, or even their social life, [students here] are motivated to succeed in their endeavors."

Chapman appears on several of the break-out ranking lists within "381 Best Colleges," including Best Western Regional, Lots of Greek Life, and Best College Radio Station.

The company's survey of students on the Chapman campus indicates that "students are happy, classroom facilities are great, dorms are like palaces, internships are widely available, students love Orange, and the University is well-run."

The Princeton Review does not rank the colleges from #1 to #381 in any category.  Instead, it uses students' ratings of their schools to compile 62 ranking lists of top 20 colleges in the book in various categories.  The lists in this edition are entirely based on The Princeton Review's survey of 143,000 students (about 375 per campus on average) attending the colleges. The 80-question survey asks students to rate their schools on several topics and to report on their campus experiences. Topics range from their assessment of their professors as teachers to opinions about their school's library, career services, and the student body's political leanings.
Princeton Review explains the basis for each ranking list
here
.   The Princeton Review's school profiles and ranking lists for 2017 are posted at
www.PrincetonReview.com/best381
.

The Princeton Review is an education-services and publishing company headquartered in Natick, Mass.  An operating business of Match Group (NASDAQ: MTCH), it is not affiliated with Princeton University.