Before you get to read this story about a Chapman University alumna and Le Cordon Bleu graduate who's launched her own YouTube channel, food website and culinary business, you have to hear about this still-warm-from-the-oven chocolate chip cookie she has just served.
It's big, but baked perfectly so that the edges aren't dry and the middle isn't gushy. A sprinkle of sea salt on top balances the sweetness. Then there's this – Tiffany Lewis '04 has used vanilla paste instead of extract and a rough chop of imported chocolate in lieu of the little bagged morsels we all know well.
Those two changes make a world of difference in this staple of American treatdom. But more than that, encompassed in that cookie is Lewis' attitude about food. You needn't get too foodie – although she can play there, too, having worked with celebrity chef Curtis Stone – to make your guests happy. Her focus for now is family favorites supercharged with a distinctive ingredient or two that transforms the routine into the extraordinary.
"My whole philosophy is that you don't have to be fussy when it comes to food," Lewis says. "It's the little things that I think really make all the difference."
That thinking shapes the platforms where Lewis serves up her recipes, cooking tips and tutorials including her website TheTableTogether.com and her YouTube channel, The Table Together with Tiffany Lewis. Most recently, Lewis partnered with Chapman television and broadcast journalism major Nicole Renard '17 in the taping of her second YouTube season, which began this month.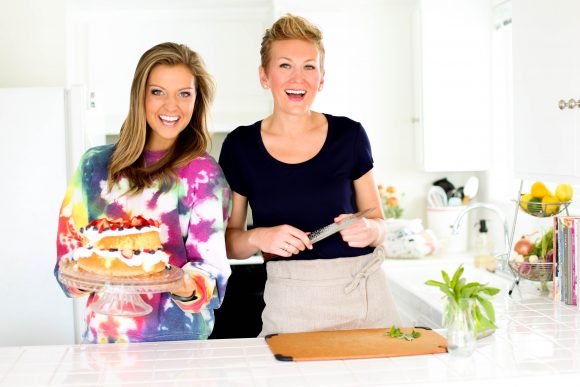 "We worked so well together. Working with someone like her just made it go so much faster. We've already talked about doing more together," Lewis says.
The first season of videos are quick bites of information on basic skills – making a classic vinaigrette and preparing pan-seared salmon. The second season will feature even quicker tutorials, including how to slice a watermelon with minimal waste and save on the expense of those pre-sliced fruits in supermarkets.
Lewis also has a sophisticated culinary hand and finds an outlet for that as culinary director for the Newport Beach Food and Wine Festival and in the classes she teaches at Sur La Table. But the basic videos are essential, too, especially for new cooks, she says.
"They want to start those family meal traditions, but they don't have space or tools and I show them that you might have a small kitchen, but let's make it work. Here are some great tips for you," she says.
A communication studies major at Chapman, Lewis worked in marketing for the banking industry for a few years. But cooking beckoned, so she moved back to Southern California for Le Cordon Bleu Los Angeles and shared an apartment with her sister Elizabeth Lewis '11 (M.S. '13), who was attending Chapman at the time.
Lewis went on to work with Curtis Stone for two years in several capacities, from testing recipes for his cookbooks to joining him on stage at his live cooking shows. Recently she decided she wanted to have a go at building her own brand and The Table Together was born. Her goal is to eventually write cookbooks and host a syndicated cooking show, all focused on adding a bit of flavor and surprise to straightforward cooking.
"I feel like this movement will affect generations to come and it's such a simple thing –sit around the table and share a meal," she says. "How do we start? We start cooking."
And a little vanilla paste in the pantry couldn't hurt either.