What do confetti cannons, hydraulic excavators and foam-shooting Erlenmeyer flasks have in common?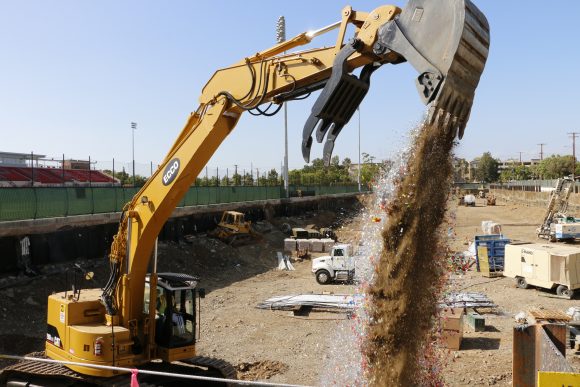 Each was a flourish in the groundbreaking ceremony for Chapman's new Center for Science and Technology.
On April 27, a massive excavator ceremoniously struck the earth, digging up a shower of confetti-laden dirt, symbolically breaking ground on the construction of the new Center.
Scheduled to open in fall 2018, the Center for Science and Technology will be the largest and most expensive building in the University's history. The $130 million, three-story building will cover 140,000 square feet and be the new home for Chapman's Schmid College of Science and Technology.
"I consider the groundbreaking for the Center for Science and Technology one of the most significant events in my 25 years as president and an exciting capstone to the leadership I have given Chapman," said Chapman President Jim Doti.
The Center is testament to the University's commitment to research and the education of students who will be leaders in the fast-growing fields of science, said Andrew Lyon, dean of Schmid College.
"'If you build it, they will come.' We've all heard it a million times. It couldn't be more true for the sciences at Chapman over the past eight years," Lyon said. "We built the programs and they came. Now we need to build our science students and faculty a facility worthy of their passion and vision for the future of the sciences, not just at Chapman, but around the world."
The 2.25-acre complex will consist of two halls – the Hall of Science and the Hall of Technology and Engineering – and will feature a dramatic arch design in keeping with the prairie- style architecture of Old Towne Orange. The site fronts Center Street, just east of Wilson Field.
"This Center will allow Chapman University to become a nexus for exceptional students and outstanding scholars and thinkers, and will serve as the birthplace for generations of scientific innovation and advancements," said Daniele Struppa, Ph.D., chancellor and incoming president of Chapman.