Each spring, President Jim Doti releases a list of summer recommendations which includes his favorite books and films. This year's selections are listed below with Doti's thoughts, a publisher's summary and a review.
My Ántonia by Willa Cather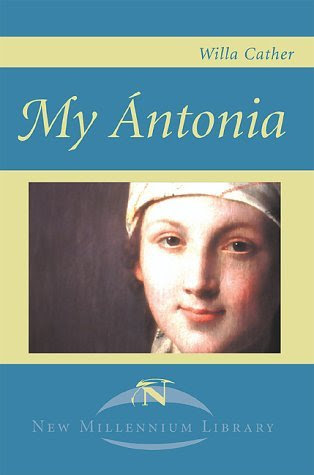 President Doti: Rereading Willa Cather's My Ántonia was a blast from the past.  Even though I recalled most of the plot of this coming-of-age story published in 1918, it's funny how one's reactions to a book change over time.
Publisher summary: Through Jim Burden's endearing, smitten voice, we revisit the remarkable vicissitudes of immigrant life in the Nebraska heartland, with all its insistent bonds. Guiding the way are some of literature's most beguiling characters: the Russian brothers plagued by memories of a fateful sleigh ride, Antonia's desperately homesick father and self-indulgent mother, and the coy Lena Lingard. Holding the pastoral society's heart, of course, is the bewitching, free-spirited Antonia.
Reader Review: "I'm fully convinced of Cather's writing style. Cather brought the frontier to life for me, the Bohemians, Ántonia, everyone and everything." (read full review) – goodreads
Crooked Heart by Lissa Evans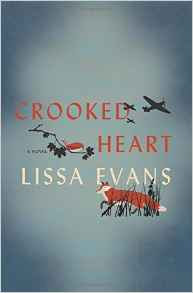 President Doti: Perhaps my favorite novel of last year is Crooked Heart by Lissa Evans.  This dark comedy set in WWII's London Blitz is a great character study of two people who stumble into each other's heart and mind.
Publisher summary: When Noel Bostock – aged ten, no family – is evacuated from London to escape the Blitz, he ends up living in St Albans with Vera Sedge – thirty-six and drowning in debts and dependents. Always desperate for money, she's unscrupulous about how she gets it. (read full summary)
Reader Review: " So many books on World War II and London's Blitz are sentimental and tired, but Lissa Evans's is beautifully moving because the war is second to the desperate characters. Parts of the book are funny, while other parts provoke anxiety on behalf of a little boy named Noel who is preternaturally intelligent and sadly abandoned." (read full review) -goodreads
Just Mercy by Bryan Stevenson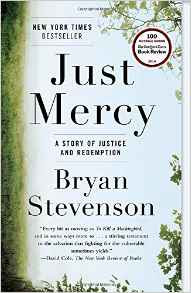 President Doti: As for nonfiction, a book that really changed my views on public policy is Just Mercy by Bryan Stevenson.  In addition to being a provocative book with an important message, it's also fast-paced and reads like a mystery.
Publisher summary: Just Mercy is at once an unforgettable account of an idealistic, gifted young lawyer's coming of age, a moving window into the lives of those he has defended, and an inspiring argument for compassion in the pursuit of justice. (read full summary)
Reader Review: "Bryan Stevenson is one of my personal heroes, perhaps the most inspiring and influential crusader for justice alive today, and Just Mercy is extraordinary. The stories told within these pages hold the potential to transform what we think we mean when we talk about justice."—MICHELLE ALEXANDER, author of The New Jim Crow
1944: FDR and the Year That Changed History by Jay Winik
President Doti: Given the recent tragedies relating to Syrian and other refugees from around the world, Jay Winik's 1944: FDR and the Year That Changed History is a timely read.  You will also find confirmation that history does repeat itself, tragically in this case.
Publisher summary: Jay Winik brings to life in "gripping" detail (The New York Times Book Review) the year 1944, which determined the outcome of World War II and put more pressure than any other on an ailing yet determined President Roosevelt. (read full summary)
Reader Review: "This book is now in my "favorites" shelf. I have always been interested in the Holocaust and the survivors how they endured and persevered but I never really paid attention to how it all came about and what went on prior to and during WWII. I am glad I read it and learned allot." (read full review) -goodreads
Pirate Hunters by Robert Kurson
President Doti: On the lighter side, I highly recommend Robert Kurson's Pirate Hunters for "unputdownable" beach reading.  I was fascinated by this true story of a search for an infamous pirate ship.  I figured out the divers' solution to the riddle of how to find the ship.  See if you can.
Publisher summary: Finding and identifying a pirate ship is the hardest thing to do under the sea. But two men—John Chatterton and John Mattera—are willing to risk everything to find the Golden Fleece, the ship of the infamous pirate Joseph Bannister. At large during the Golden Age of Piracy in the seventeenth century, Bannister should have been immortalized in the lore of the sea—his exploits more notorious than Blackbeard's, more daring than Kidd's. But his story, and his ship, have been lost to time. (read full review)
Reader Review: "A wild ride [and an] extraordinary adventure . . . Kurson's own enthusiasm, combined with his copious research and an eye for detail, makes for one of the most mind-blowing pirate stories of recent memory, one that even the staunchest landlubber will have a hard time putting down."—Publishers Weekly (starred review)
The Trip to Italy
President Doti: As for movies this past year, I found The Trip to Italy, about two travelers (Steve Coogan and Rob Brydon) experiencing Italy's culinary delights while musing about life, love and poetry a laugh riot.  This is a follow-up to Steve and Rob's equally funny The Trip, which followed their culinary adventures through Northern England.
Film summary: Years after their successful restaurant review tour of Northern Britain, Steve Coogan and Rob Brydon are commissioned for a new tour in Italy. Once again, the two comedy buddies/rivals take the landscape as well as the cuisine of that country in a trip filled with witty repartee and personal insecurities. Along the way, their own professional and personal lives comes in as these slightly older men's friendship comes through.
Film Review: By the time the curtains draw to a bittersweet close, you'll walk out feeling rejuvenated, satisfied, well replenished in humor and culture, and already planning your own trip to Italy. (read full review) -indiewire
Philomena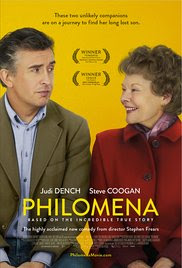 President Doti: Another film starring Steve Coogan but definitely not a comedy is Philomena.  This drama, based on the book written by journalist Martin Sixsmith, also stars Dame Judi Dench.  It tells the story of a woman's search for her illegitimate son, who was forcibly taken away from her by the convent where her father placed her.
Film summary: When former journalist Martin Sixsmith is dismissed from the Labour Party in disgrace, he is at a loss as to what do. That changes when a young Irish woman approaches him about a story of her mother, Philomena, who had her son taken away when she was a teenage inmate of a Catholic convent. Martin arranges a magazine assignment about her search for him that eventually leads to America. Along the way, Martin and Philomena discover as much about each other as about her son's fate. Furthermore, both find their basic beliefs challenged.
Film Review: A terrific, sophisticated comedy that tackles serious issues with a lightness of touch and a spirit of steel, Philomena is the British film to beat come BAFTA time. (read full review) -empireonline
What Our Fathers Did: A Nazi Legacy
President Doti: The first line in the documentary What Our Fathers Did: A Nazi Legacy is:  "Imagine what it must be like to grow up as the child of a mass murderer."   This riveting film explores the contrasting attitudes and emotions of two of those children.
Film summary: Three men travel together across Europe. For two of them the journey involves a confrontation with the acts of their fathers, who were both senior Nazi officers. For the third, the eminent human rights lawyer and author Philippe Sands, it means visiting the place where much of his own Jewish family was destroyed by the fathers of the two men he has come to know. It is an emotional, psychological exploration of three men wrestling with their past, the present of Europe – and conflicting versions of the truth.
Film Review: "A challenging and disturbing documentary looking at how the sons of two Nazi war criminals have dealt differently with their father's actions." (read full review) -theguardian