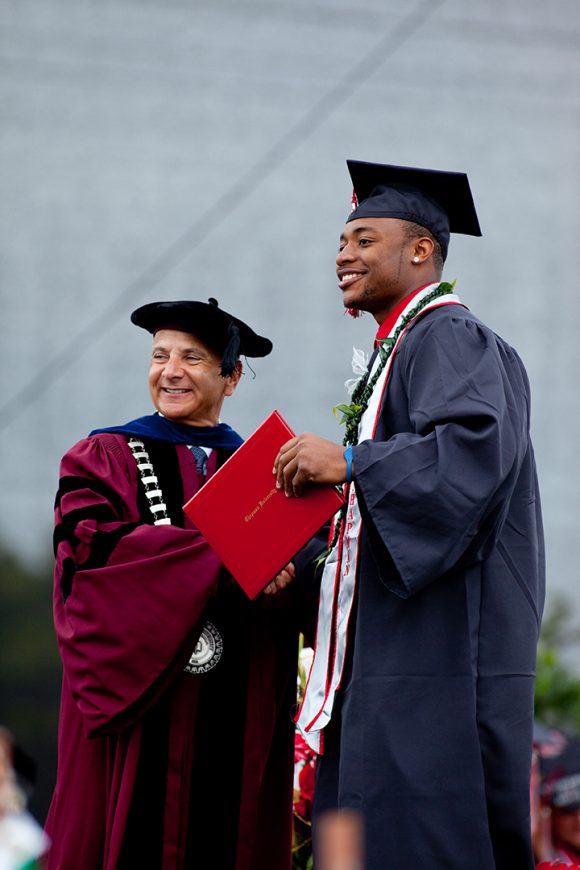 Chapman University will graduate 1,474 seniors and 612 graduate and law degree candidates during its 155th Commencement festivities May 20-22, 2016. The weekend will kick off on Friday, May 20  with the Baccalaureate Interfaith Worship Service at 4 p.m. in Musco Center for the Arts, featuring "American Idol" star
David Archuleta
as speaker and performer.  This will be followed by the Senior Convocation – the all-university academic ceremony honoring the achievements of the graduating class – at 7 p.m., then the President's Toast to the Class of 2016 for seniors and their families, and a fireworks display.  Commencement ceremonies for the Dale E. Fowler School of Law will also take place on Friday.  Ceremonies for seven more Chapman schools and colleges will take place on Saturday and Sunday, on Wilson Field for six of them; and, for one — the College of Performing Arts — inside Musco Center for the Arts.

This year's Commencement will mark the final ceremonies in which
Jim Doti
will participate as Chapman president, handing out diplomas and congratulating newly minted Chapman alumni.  He steps down in August after a remarkable 25 years at the Chapman helm, and will return to the Argyros School of Business and Economics faculty.  Current Chancellor
Daniele Struppa
will be inaugurated as Chapman's new president in September.

Guest speakers will include
Cheryl Boone Isaacs
, president of the Academy of Motion Picture Arts and Sciences;
David Janes
, chairman of Chapman's Board of Trustees and chair of Janes Capital Partners;
Chinary Ung
, Chancellor Fellow and senior Composer-in-Residence at Chapman;
Rebecca Richards-Kortum
, professor of bioengineering at Rice University and director of Rice 360°: Institute for Global Health;
France Dixon Helfer
, president and CEO of TinyKicks; and
Ahmed Younis, Ph.D.
, nationally recognized commentator and adjunct professor in Chapman's College of Educational Studies.  Honorary degree recipients include Boone Isaacs;
William Thompson
, retired CEO of PIMCO and benefactor of Chapman's Thompson Policy Institute for Disability and Autism; and
Madame Ping Sun
, All-China Peking Opera artist.

Parking will be free on the Chapman campus and in adjacent Chapman parking structures throughout Commencement weekend.

GRADUATES OF CHAPMAN SCHOOLS/COLLEGES, BY THE NUMBERS:


TOTAL students who will receive diplomas: 2,086


Undergraduate: 1,474

Graduate and Law:  612

Dale E. Fowler School of Law


J.D.: 163

LL.M:  22

College of Educational Studies


Total: 182

Undergraduate: 54

Graduate:  128

Dodge College of Film and Media Arts


Total: 332

Undergraduate: 261

Graduate: 71

Crean College of Health and Behavioral Sciences


Total: 283

Undergraduate: 198

Graduate: 85

Wilkinson College of Arts, Humanities and Social Sciences


Total: 385

Undergraduate: 352

Graduate: 33

College of Performing Arts


Total: 97 (all are undergraduates)

Schmid College of Science and Technology


Total: 139

Undergraduate: 131

Graduate: 8

Argyros School of Business and Economics


Total: 483

Undergraduate: 381

Graduate: 102

CHAPMAN UNIVERSITY COMMENCEMENT EVENTS SCHEDULE

Friday, May 20






4 – 6 p.m.

Dale E. Fowler School of Law Hooding and Ceremony
Wilson Field








4 – 5 p.m.

Baccalaureate Interfaith Worship Service
Musco Center for the Arts – featuring David Archuleta ("American Idol")







7 – 9 p.m.

Senior Convocation and President's Toast, Fireworks
Wilson Field and Aitken Arts Plaza (in front of Musco Center for the Arts)





Saturday, May 21






8 – 10:30 a.m.

George L. Argyros School of Business and Economics Ceremony
Wilson Field  — Keynote Address: David Janes, Chairman of the Board of Trustees, Chapman University








11:30 – 1 p.m.

College of Educational Studies Ceremony
Wilson Field — Keynote Address: Dr. Ahmed Younis '16, Adjunct Professor — Honorary Degree: William Thompson, retired CEO of PIMCO








1:30 – 2:30 p.m.

College of Performing Arts Ceremony
Musco Center for the Arts — Keynote Address: Chinary Ung, Chancellor Fellow: Senior Composer in Residence, Chapman University; Distinguished Professor of Music, UC San Diego








4 – 6 p.m.

Lawrence and Kristina Dodge College of Film and Media Arts Ceremony
Wilson Field — Keynote Address & Honorary Degree: Cheryl Boone Isaacs, President, The Academy of Motion Pictures and Sciences








7 – 9 p.m.

Wilkinson College of Arts, Humanities, and Social Sciences Ceremony
Wilson Field — Honorary Degree: Madame Ping Sun, All China Peking Opera Artist






Sunday, May 22





4 – 5 p.m.

Schmid College of Science and Technology Ceremony
Wilson Field — Keynote Address: Rebecca Richards-Kortum, Professor of Bioengineering, Rice University







6:30 – 8 p.m.

Crean College of Health and Behavioral Sciences Ceremony
Wilson Field — Keynote Address: France Dixon Helfer, President and CEO of TinyKicks