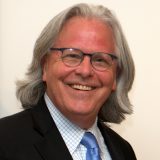 Richard T. Bryant, a nationally recognized arts leader and former OC arts executive, has been appointed Executive Director of Chapman University's Marybelle and Sebastian P. Musco Center for the Arts, effective immediately, according to Daniele Struppa, Chapman University Chancellor and President-Designate.
As Musco Center's Interim Executive Director since November 1, Bryant worked with Paul and Marybelle Musco; William Hall, founding dean of Musco Center; University leadership, and Chancellor Struppa to achieve the Center's highly successful Grand Opening on March 19, Community Open House & Arts Festival on April 2, and the Preview Season, now underway. Under Bryant's guidance, more than 1,000 student, community, and professional artists have already performed at Musco Center and more than 15,000 people are expected to attend Preview Season events through May 29.
"It's not an overstatement to say that without Richard's leadership, Musco Center would not be what it is right now," said Chancellor Struppa.  "We're very grateful to him for what he's done so far, and I'm excited for what the future holds for Musco Center under his expert guidance."
Bryant's Orange County roots run deep. He served for ten years (1987-1996) as director of communications and marketing for Segerstrom Center for the Arts (then known as Orange County Performing Arts Center) and was extremely active in the OC arts community. After that, he served as the first vice president of marketing and public relations for the New Jersey Performing Arts Center in Newark, NJ.  He was also director of marketing for Washington DC's Arena Stage for seven years and a founding member and first President of the Helen Hayes Awards. He is currently volunteer chairman of the National Consortium for Creative Placemaking, which focuses on new ways to make communities more livable, equitable, and resilient through arts and culture.
During the past 20 years, Bryant has served an array of clients nationwide through his company, Front of House Services, particularly with start-ups, transitions, and arts-driven economic development. Clients have included New York's American Ballet Theatre, Dance Theatre Workshop, and Theatre Development Fund; Washington D.C.'s John F. Kennedy Center and National Symphony Orchestra; Stanford University's Bing Concert Hall; Mondavi Center at UC Davis; Philadelphia's Kimmel Center; San Antonio's McNay Museum of Art; the New Orleans Jazz Orchestra; and Yale University's Peabody Museum, among others.
More recently, Bryant has advised a number of arts development projects along New Jersey's urban rail corridors, including the Valley Arts District in Orange NJ, the Rahway Arts District, and the Township of Woodbridge NJ.  Last summer, in Camden NJ, he helped Cooper's Ferry Partnership produce festivals and programs to engage the community in city parks and vacant lots under the Ben Franklin Bridge.