It's graduation month not only for the seniors at Chapman University but also for the parents and preschoolers of the
Padres Unidos
program at the
Centro Comunitario de Educación
(Community Education Center), a Chapman facility in downtown Santa Ana.

While initially focusing on providing parents with classes about child care and other subjects in hopes of furthering their education, the program has expanded immensely this year thanks to help from Chapman's
College of Educational Studies
(CES) and generous donors. Now the program serves both parents and preschoolers at the center, which also houses many other educational and cultural programs for the Santa Ana community. While parents have their classes, preschoolers gather in another room for activities aimed at boosting their kindergarten readiness.




So it was a very exciting time on Wednesday, May 4, for both the parents and the children of the Padres Unidos program and the first graduation housed in the recently
re-opened
Centro Comunitario de Educación.

After the preschoolers walked out in a single line all wearing their homemade graduation caps and gowns, parents were invited to the front of the room to talk about their experiences of being in the program for a year, many expressing teary thanks at the opportunity to advance both their and their children's education.

"It's a graduation for them being here for a year," says Anaida Colón-Muñiz, Ph.D., director of the Centro Comunitario de Educación. Colón-Muñiz, a bilingual educator, administrator, community advocate and Chapman University faculty member has been involved with Padres Unidos and the Santa Ana community for years.

After the speeches, the children were called up and handed a backpack filled with books from CES Dean Margaret Grogan, Ph.D., and presented with an honorary medal from Christine Cross from the Lloyd E. and Elizabeth H. Klein Family Foundation. Both the parents and children received a certificate, signifying their completion of the one year program.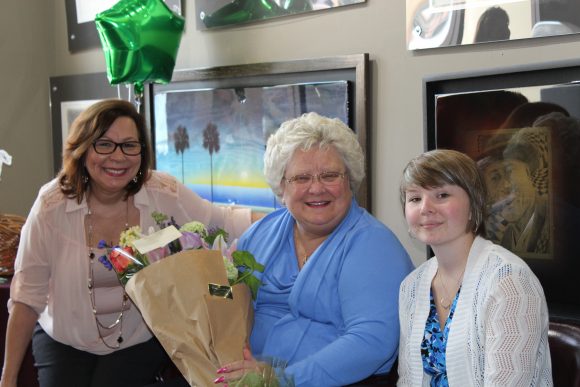 As someone especially passionate about preschool education, Cross emphasized the importance of the children receiving the backpacks filled with books for their graduation from the program.

"Books can get passed on," Cross says, "it can add another layer in the community."

Along with her husband Lon Cross, the two donors head up the foundation named for Christine Cross' parents. In addition to the foundation, Cross also participates in Assistance League of Anaheim and Operation School Bell.

"Our mission is to educate these children," Cross says.

Featured image at top: The backpacks for the preschoolers. Photos by Erin O'Keefe.