Technology startup, grandPad, who had its origins at Chapman University's incubator Launch Labs has hit the big time with an equity investment from Acer, one of the world's top five PC companies. grandPad – a tablet for seniors – was founded by Chapman University student Isaac Lien in 2014 and his father Scott Lien. Together with other Chapman students including Ryan Burns, and David Tyler, grandPad began in Chapman's incubator but has since moved into its own facility and has been on a trajectory of growth and success since its launch.
"It has been an exciting and busy few months—but we are all thrilled about the future possibilities of bringing grandPad to the more than 300 million seniors around the world who need to be digitally reconnected," said Scott Lien, co-founder of grandPad.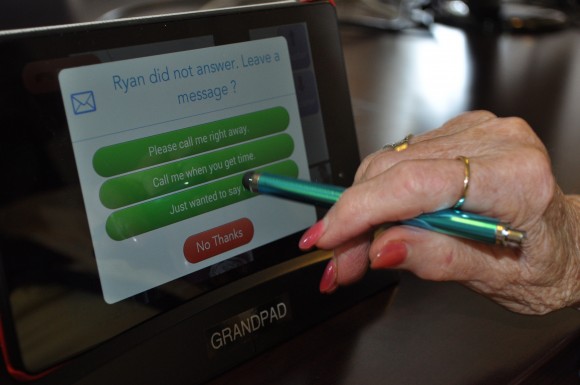 grandPad®, is a provider of technology solutions specifically designed for senior citizens. The partnership with Acer enhances both companies' missions of providing safe and simple technology for users—Acer with its resources in hardware design capabilities and computing, and grandPad with its strengths in software and services.
In addition, grandPad also recently entered into a strategic partnership with Comfort Keepers, an in-home care provider for seniors. This partnership allows grandPad to be incorporated into the senior care offered by Comfort Keepers to enhance their clients' quality of life.
"I've enjoyed seeing where we've come since launching two years ago in the Chapman Launch Labs," said Isaac Lien, co-founder of grandPad and a junior at Chapman University. "Going forward, these two partnerships put grandPad on the path to an exciting future."
More information about these two announcements can be found at:
www.grandpad.net/acer
and
www.grandpad.net/comfortkeepers