Chapman University business major Aviv Redlich '17 may not be destined for a musical career. But the experience of stepping onto the stage of the new Marybelle and Sebastian P. Musco Center for the Arts, in the same spot where opera great Placido Domino performed at the Center's gala opening, will be among the highlights of his student days.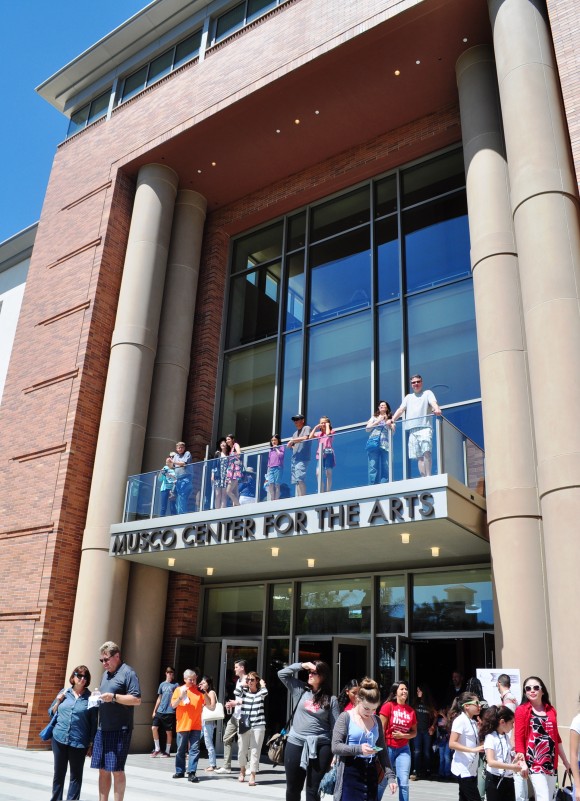 "It was just a wow moment," says Redlich, a member of Men of Harmony, the premiere a Capella student club at Chapman that was among the first student groups to perform during Saturday's Community Open House & Arts Festival. The group brought its audience to tears with a tender rendition of
Danny Boy
. "You see all three tiers and all the spotlights. The stage was phenomenal."

Indeed, it was a spectacular day for student groups, community arts clubs and children's art programs that dominated the daylong festival attended by thousands of residents from near and far. Just two weeks after its gala opening, Musco Center flung open its doors for a day of tours, free outdoor concerts and family activities, leading up to a free Pacific Symphony performance.

See more media coverage of the day in
The Orange County Register
.

Musco Center is expected to take its place among the nation's top university arts education and performance venues, offering students and distinguished faculty the opportunity to achieve the highest standard of arts-related education through hands-on, real-world production and performance experience.

At Musco Center, the surrounding community will enjoy large-scale opera and theatre productions, touring dance companies, symphonies, chamber performances, jazz, world and popular music, and much more. For more information and a schedule of upcoming events, visit
www.muscocenter.org.