Chapman University is once again bringing together acclaimed authors for the
Literary Pub(lishing) Crawl
to talk, sign their books and advise hopeful writers on the winding road to publication success.

This free event is on Tuesday April 12, at 3 p.m. and will be held at Chapman University in Beckman Hall 404. Organized by the
Department of English, Wilkinson College of Arts, Humanities, and Social Sciences
and the
Leatherby Libraries,
the Pub(lishing) Crawl is an opportunity that allows attendees a chance to get face-to-face with authors and sit in on a panel discussion moderated by organizer, author and
Chapman professor James Blaylock
. This year's lineup of writers Pico Iyer, Janna Levin, Ryan Gattis '01 and Gordon McAlpine bring science, travel and fiction together for a powerful range of genre representation.

"We've never had a Pub Crawl in the past with such an illustrious, brilliant, wide-ranging lineup of writers," said Blaylock. "All four of the speakers are related to Chapman University — all of them teachers in one way or another — and each is a remarkably original writer."




Chapman alumnus, writer and educator Ryan Gattis '01 recently authored the book,
All Involved: A Novel of the 1992 L.A. Riots
, told from the perspectives of gang members, firefighters, nurses and other L.A. citizens who lived through it. Gattis graduated from Chapman with a degree in literature and, after earning his MFA in creative writing in England, he returned to teach at Chapman, during which he researched his novel.


All Involved
is grounded in two and a half years of research, has won the American Library Association's Alex Award and the Lire Award for Noir of the Year in France. Set to be translated into 11 languages, it has been called "a high-octane speedball of a read" by the New York Times, and its film rights have been acquired by HBO. Gattis lives and writes in Los Angeles, where he is a member of the street art crew UGLARworks and a founding board member of 1888, a Southern California literary arts non-pro­fit. "
All Involved
is part social commentary, part character study, and it absolutely captures the gritty, desperate realities of gang culture," said Blaylock.

Janna Levin
, a Barnard College of Columbia University professor of physics and astronomy and a Chapman Chancellor's Fellow, is the author of
How the Universe Got Its Spots, A Madman Dreams of Turing Machines
and
Black Hole Blues and Other Songs from Outer Space
, among others. She is director of sciences at Pioneer Works, a center for arts and sciences in Brooklyn and was recently named a Guggenheim fellow. Levin has contributed to an understanding of black holes, the cosmology of extra dimensions, and gravitational waves in the shape of spacetime.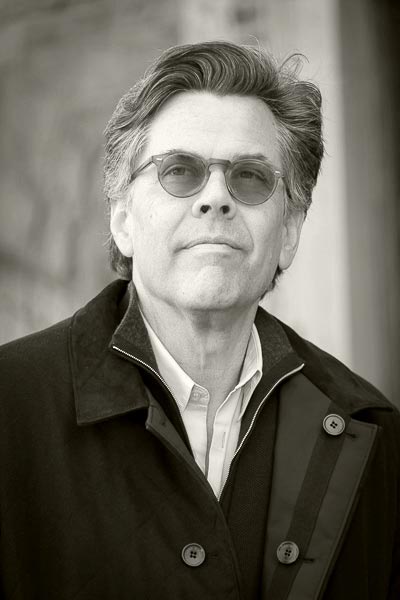 Pico Iyer
, author of
The Art of Stillness
, is a Time magazine essayist, New York Times contributor and Chapman Presidential Fellow who has published numerous books on his world-wide travels, the concept of where home is and most recently, the joy one finds in just staying put and unplugging.

When he isn't peering into the far corners of the planet or secluding himself in a California Benedictine monastery, he lives in rural Japan with his longtime sweetheart.

Gordon McAlpine
is the author of a number of books, the most recent being the Edgar Award-nominated
Woman with a Blue Pencil.
Joyce Carol Oates called it "a book that Kafka, Borges and Nabokov, as well as Dashiell Hammett, would have appreciated." He is also the author of
Hammett Unwritten, The Way of Baseball, Finding Stillness at 95 MPH, Joy in Mudville
, the young adult trilogy
The Misadventures of Edgar and Allan Poe
, and others. He has chaired the MFA program at Chapman University and has taught fiction writing classes at UCLA and UC Irvine.

 

 

Featured at top: Pico Iyer