While many were enjoying the sunshine during the first weekend of the semester, Opera Chapman members rose early for their morning performance of
The Pirates of Penzance: Opera for Kids!
at the Segerstrom Center for the Arts with the Pacific Symphony, a collaboration that has been ongoing for the past five years.

Part of the
Family Musical Mornings
hosted by the Pacific Symphony, the condensed version of the original Gilbert & Sullivan operetta tells the story of Frederic, an accidentally apprenticed pirate who has to uphold his duty to turn against the pirates who raised him.

"Gilbert and Sullivan did a fantastic job of creating catchy music, toe-tapping and very memorable," cast member Alexandra Rupp '17 says, "I think that's one of the aspects that's so special about the story and we kind of bring it to life."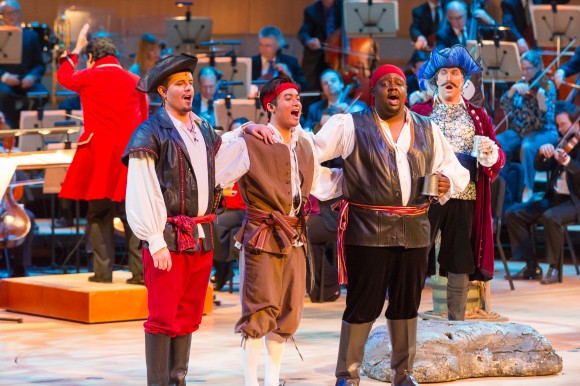 How did this come about? Peter Atherton, D.M.A, the artistic director of Opera Chapman and the director and scriptwriter for
The Pirates of Penzance: Opera for Kids!
established the connection with the Pacific Symphony six years ago.

"It started with choosing some singers from Opera Chapman to go and perform in the lobby before the symphony concerts," Atherton says. "They were so popular that the administration and artistic directors of the symphony loved the Opera Chapman singers and wanted to start involving them in these Family Offerings."

He continued directing shows like
The Magic Flute
and
Cinderella
, giving additional chances for the Chapman students to take on the professional stage. In addition, students perform in the pre-show interactive Music Carnival as well, giving their young audience members a brief overview of the show and an introduction to voice types and the songs they will hear.

"It's pretty much like the greatest hits of the show and so we condense it and it also helps gets the kids excited because we sing the pieces," chorus cast member Mark Peng '17 explains.

Of course, the Opera Chapman cast members were also excited to work alongside not only opera professionals, but a professional orchestra, an extraordinary opportunity for undergraduates.




"It's kind of eye-opening because we all kind of want to go into opera in general," says opera member Jeffrey Goldberg '17.

"It was very moving," first timer Yllary Cajahurainga '17 agrees, referring to their first professional orchestra run through.

But the best part of the whole performance just might be the costumes.

"Us guys, we have swords," cast member Kristinn Schram Reed '18 says, "It just brings out a certain character that you can't control."


Make sure to catch Opera Chapman on campus April 22-23 and 24 when they perform Gianni Schicchi and Suor Angelica, two of Puccini's beloved one-act operas. Tickets may be purchased online.
Top image: first row from left: Spencer Boyd '16, Kristinn Schram Reed '18, Mark Peng '17; back row from left: Jeffrey Goldberg '17, Elliott Wulff '16, Duke Kim '15, Marcus Paige '15, Madilyn Crossland '17, Dr. Peter Atherton, Yllary Cajahurainga '17, Alexandra Rupp '17 and Erin Theodorakis '17