Glance around the studio of comic book writer Kyle Higgins '08, and one would be forgiven for falling into fan goofiness and delightedly exclaiming "Wow!" Or "Blam!" and "Kapow!"
The small converted Santa Monica apartment is decked out with the trappings of Higgins' comic book writing success, most notably his Batman work. A vintage spinner display rack is chock full with some of his most well-known comic books from several series, including BATMAN: GATES OF GOTHAM,
Supreme Power, DEATHSTROKE and Nightrunner. The walls are decorated with signed artwork from the artists who illustrate his top-selling comic books.
There's a sneak peek at something brand new, too. A white board adorned with color-coded story lines is evidence of his most recent gig – writing BOOM Studios' Power Rangers comic books for a new generation of "Morphin Time!" fans. The series debuts Jan. 13 with the release of issue #0.
And yet, Higgins has a confession.
"I never wanted to write. Never ever wanted to be a writer. Never thought I could. Never even considered it. So the fact that I make a living putting words on paper is pretty wild," Higgins says.
Higgins is one of DC Comics' most prolific authors. He's written for Marvel and also works on an original series called C.O.W.L he produces with Image Comics.
How did a non-writer come to be an almost non-stop writer? Well, as every superhero fan knows, there's a back story colored with a splash of trouble and torment. Growing up in Homer Glen, Illinois, Higgins was painfully shy and plagued by vocal ticks. He turned to comics for entertainment and refuge from classmates who teased the awkward adolescent. The superheroes' adventures swept him away.
A superhero rescue from teen angst
"Superheroes are either like total wish-fulfillment, or they're a safety net. And for me it was both. I had years, sixth grade through eighth grade into my freshman year of high school, that were just terrible, and they're terrible for a lot of people. I struggled as a kid with really bad depression and OCD (obsessive compulsive disorder)," he says. "The wish fulfillment of superheroes and the idea that an ordinary person can actually be extraordinary is super appealing."
He especially loved the stories of Batman and Robin. He remembers the shock he felt when he discovered that the action hero Nightwing was actually Robin all grown up.
"I was like, 'What? When did that happen. How did that happen? Does anybody else know about this?'" he recalls with a chuckle.
He began writing in earnest as a student at Chapman University's Dodge College of Film and Media Arts, where his senior film thesis was a dark comedy about a superhero labor union. YouTube and Twitter weren't yet the mass-messaging tools they are today, so a friend emailed 200 people with a link to watch the thesis film online. Somehow it made its way to the editor-in-chief at Marvel Comics.
The editor sent an email that Higgins remembers vividly.
"I remember one sentence in particular – 'Your love of comics shows up in every shot,'" he recalls. "It was the first time I thought, OK, maybe something's going to work out."
Within seconds he struck up an email correspondence that resulted in Higgins gaining an introduction to Marvel editors and encouragement to fire away with ideas.
Thank you, Captain America!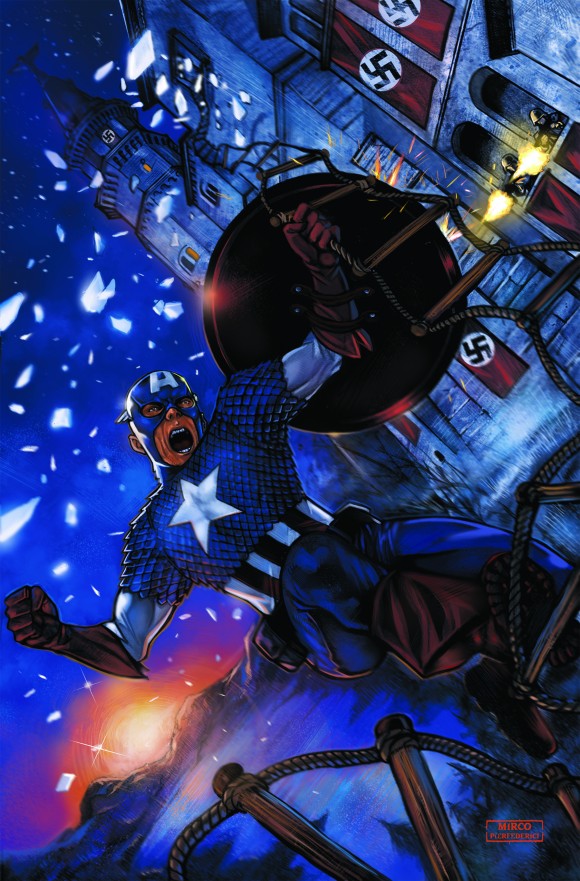 That's when the hardest work began. Rejection ruled for months, and Higgins kept his day job in a paint store. Then he learned that the publisher wanted a new World War II angle for its Captain America  series, something reminiscent of the golden age of superheroes, when readers devoured stories of good triumphing over evil.
Higgins and his best friend Alec Siegel hit upon the idea of having Steve Rogers – Captain America's alter ego – wounded and captured by Nazis who don't realize it's actually Captain America they have on their hands. The writers envisioned Captain America orchestrating a daring escape plan to free himself and other allied prisoners. The editors loved it. The result was Captain America: Theater of War: Prisoners of Duty, published in 2009.
Higgins spent a year working on additional books for Marvel before signing on at DC Comics, the publishing home of his beloved Batman. Now he works mostly from his Santa Monica studio. There he cranks out about three to five titles a month, a typical pace for comic book writers, whose fans demand a constant feed of new tales.
Among them are stories featuring Nightrunner, a French-Algerian pacifist Batman character Higgins helped create. Nightrunner's story was featured on The Daily Show
with Jon Stewart and caused a stir among some readers who weren't sure what to make of an apparently Islamic superhero. Higgins was taken aback by the reaction. Nightrunner's mother is a practicing Muslim, but he says the superhero himself is not.
"He's kind of finding his own path," Higgins says.
As much as he loves creating those characters and their stories, Higgins also adores the illustrative art of comics. He's downright humble about the writer's role in that process.
"I tell people who are incredibly more talented than me what to draw," he says.
Still, the first spark comes from the writer. Higgins sometimes struggles with that. At 30, he's tall, bearded and confident – a far cry from that anxious kid he once was. He says it's tough to banish that boy completely, and like many creative people who've struck gold, he tussles with imposter syndrome. He manages by going deeper into the assignments at hand.
It's Morphin Time!

Of the new Power Ranger comics he's writing, Kyle Higgins '08 has said: "It takes place in 2015 so it's a little bit of a modernization. It's not a '90s book." Read the full interview in the Los Angeles Times' Hero Complex column.
"When your rent is due, the ideas come fast and furious. It's like when you're out on a tightrope, you try to not think about the fact that you're out on a tightrope," he says. "Deadlines help."
And when the characters, story and artwork come together, the results are special to Higgins, who believes a comic book tells a story in a way no other genre can.
"It's the purest form of storytelling. You can do anything in a comic book," he says.
And for a writer who never thought he could write, who endured a boyhood that felt utterly grounded, that's as good as flying. That's the stuff of superheroes.