T'was the first week of December and all through the halls,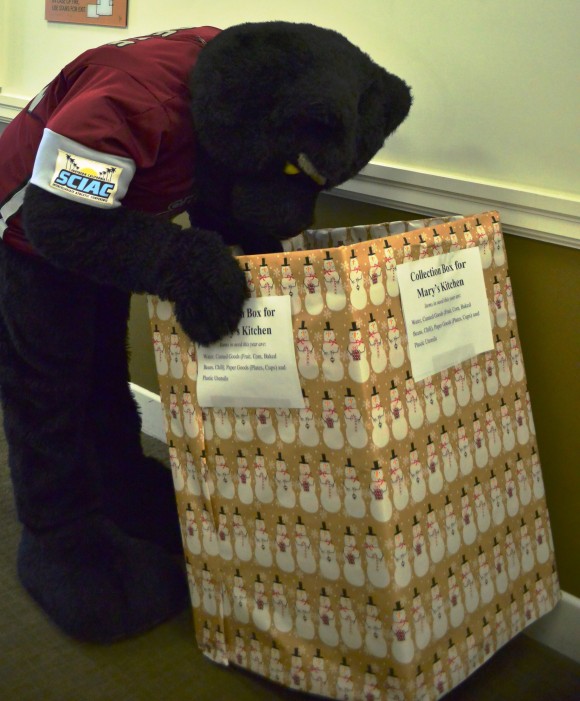 The students were bustling in prep for finals.

Here and there, there were boxes all wrapped in paper with signs,

With great hopes generosity would soon burst their sides.

But wait, what goes there, with a tail and good banter?

Why, look who it is, our own Pete the Panther!

Up on through the staircase of old Memorial Hall,

At a box from
Mary's Kitchen
,

Our dear Pete will stall.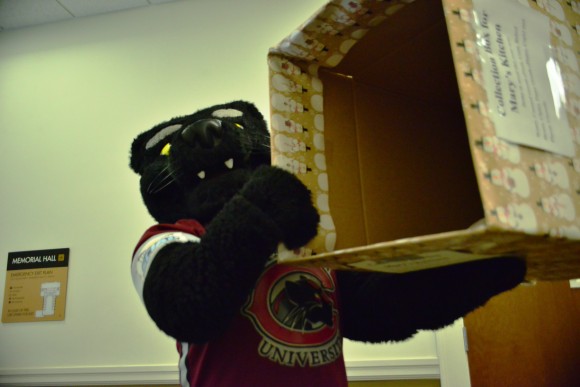 The box that was there, it was bare to the bottom.

Pete let our a roar — he thought it was rotten!

Don't worry Pete!

Don't get all upset!

It's only the first week — there's two weeks left yet!

In
Crean Hall
you can give
toys, for tots
who will love them.

And to give food to Mary's, there plenty of boxes — here's were you can find them:
To donate canned food, paper plates and utensils to Mary's Kitchen, look for the big wrapped boxes at DeMille Hall 103, at 633 West Palm outside Suite 118, in Argyros Forum 213 and upstairs in Memorial Hall outside 212.  Donations will be accepted until Dec. 23

Other ways to give this month on campus:
To donate to The Marine Corps Reserve Toys for Tots Drive, please bring new, unwrapped toys to Crean Hall at 501 West Palm Avenue

Chapman University C.A.R.E.S. is sponsoring a Sexual Assault Victims Services drive through Dec. 11.  C.A.R.E.S. students are collecting $5 gift cards to fast food restaurants which will be used to provide a meal for survivors who are undergoing a forensic exam.  Look for CARES students carrying donation bags or bring your donations to Argyros Forum 303B.