With a proud smile, six-year-old Samuel Enriquez sat at his homework table and displayed his math homework. A whole page of addition problems completed and checked, thank you very much. Now it was time to just totally space out.
With a book, that is.
"It feels good. I get to read for 20 minutes. I'm going to pick out something to read about space," said Samuel, who is among the dozens of local school children who receive after-school tutoring at The Friendly Center, a nonprofit organization based near Chapman University that provides a variety of programs for neighborhood families.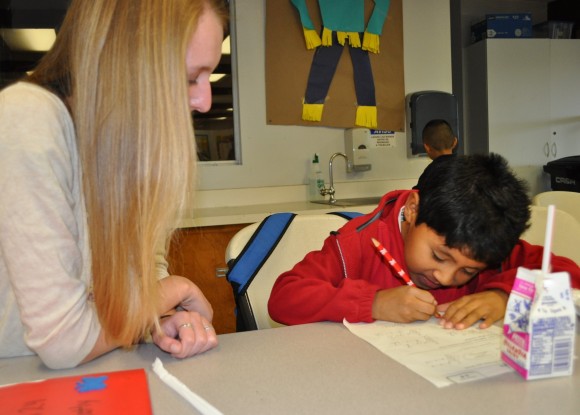 And his tutor, Chapman environmental science and policy
major Allison Scavo '17 of Brea, California, felt pretty good about that, too. She's been working as a Friendly Center tutor since her freshman year and says she can't imagine a more rewarding college job.
"I really love working with the kids and helping them learn. It's great seeing them make progress," says Scavo. "It's fulfilling."
Scavo is not alone in that sentiment. She is just one of 20 Chapman students hired as after-school homework tutors at The Friendly Center as part of their Federal Work-Study financial aid packages. While the University places most work-study students in campus jobs, about 20 are assigned to The Friendly Center, where they help youngsters in grades kindergarten through middle school with everything from early reading to mathematics and social studies. Most work at the main site near Old Towne Orange, but others also serve at satellite programs elsewhere in the city and in neighboring towns.
It's a student job that doubles as career experience, says integrated education studies major Kelsi Stone '17, a native of Hayward, California.
Chapman in the Community

After school tutoring is just one of many ways Chapman students pitch in at the Friendly Center. Students also volunteer in the food distribution program, and serve as interns, gaining valuable non-profit management experience. Read more about this and other outreach opportunities at the Civic Engagement website.
"It definitely helps me prepare for the future," said Stone, who's planning a career in teaching.
Indeed, on a recent afternoon she was guiding four busy kindergarteners through a variety of homework assignments that ranged from beginning math to coloring in letters of the alphabet, while helping peel the oranges that had been distributed for afternoon snacks.
"The time kind of goes by quickly," she said, smiling. "There are a lot of things going on."
Erika Bermudez, senior education site manager at The Friendly Center, which has its primary location in Killefer Park just west of campus, says the students' presence there is invaluable. The program counts on the tutors to help maintain a low student-to-teacher ratio and a robust program, she said. After about an hour of homework and 20 minutes of free reading – with a bit of help, as needed – the afternoon closes with a variety of enriched play activities. One of the favorite choices is "Restaurant," in which the youngsters use play money and menus to practice reading and math skills.
Moreover, Bermudez says the college students are great role models and bring a ton of energy to the task, which helps her young clients tackle little academic hurdles before they become overwhelming.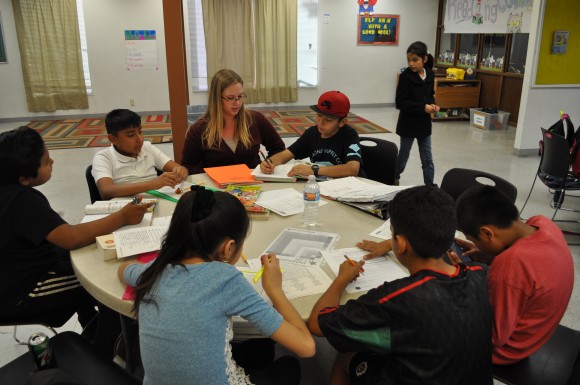 "It's very important. If they're struggling now, we don't want that to be a continuous thing. We want to end it while they're young, so that they can see that there is a positive way to get into school," she said. "If we can figure it out now and find the solutions – sometimes it's as simple as they need reading glasses – or little solutions like that, we feel we can change their future."
Featured image at top: Integrated educational studies major Alice Feng '17 and second-grader Armando Sanchez share a laugh during a math facts flash card drill.