If you're hired to rethink the air and space collection of a major science museum, the sheer bulk and hulk of your winged artifacts force you to think big.

But what Kenneth E. Phillips, Ph.D., did at the California Science Center was by his own admission more than shooting for the moon. He wanted to add a NASA space shuttle to the collection of the Los Angeles museum.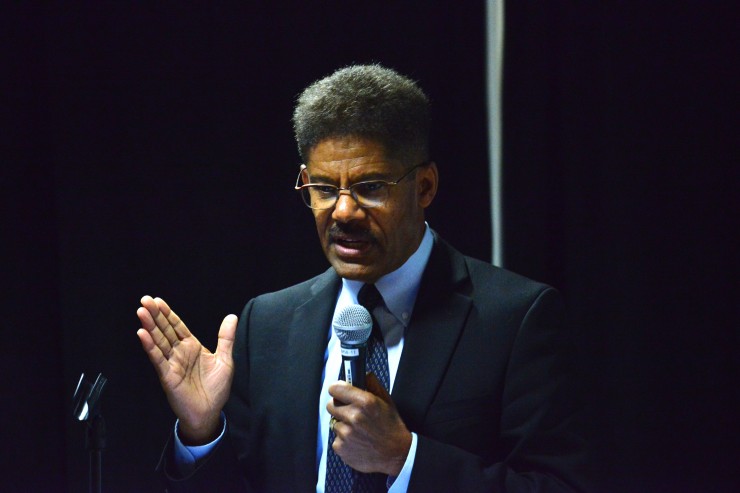 "It was a little bit wacky," he said in a recent talk to students and faculty at Chapman University's Student Research Day on Wednesday, Dec. 9.

But today the Shuttle Endeavour is a hallmark exhibit at the center, where it serves as a source of education and wonder for visitors. Phillips, curator for aerospace science at the California Science Center, was the keynote speaker during the day's special luncheon. After touring the research fair, sponsored by the
Office of Undergraduate Research and Creative Activity
, he shared insights into how the museum landed such a jewel of an artifact and is planning for the orbiter's future.

Phillips launched his effort early, long before the shuttle program was retired. Thanks to the support of museum administrators and trustees, a conceptual rendering of what such an exhibit might look like was created, but the idea was considered a distant dream. When the fleet was retired early in the wake of the Challenger and Columbia disasters, that rendering, along with a quickly-assembled pitch team and a 25-page plan, helped win the museum's appeal to NASA to send a shuttle to Southern California, a historic hub of the aerospace industry.

After winning NASA's approval, the job of moving the shuttle to Los Angeles began. Phillips described various logistics, publicity and fundraising work involved. But as an engineer he was surprised at how delicate a business it was to transport the shuttle from Los Angeles International Airport, where it arrived atop a Boeing 747.
See Space Shuttle Endeavour


The orbiter and the exhibit Endeavour: The California Story, which celebrates the craft's many scientific achievements and its strong connection to California, is on display at the California Science Center in Exposition Park. Ticket and reservation information is available here.

"I'd always thought that these spacecraft were relatively easy to handle because even those in our collection, even the aircraft, were somewhat robust. But the space shuttle is a very fragile entity. It doesn't want to be touched at all. All it wants to do is fly," he said.

Happily, its 68-hour trek across Los Angeles streets was a soaring success.

"It truly did seem to bring the community together in ways that many of just can't fully know. We understand from the L.A. Police Department that crime actually went down in the city over that three-day period," he said.

A personal connection to the shuttle program helped drive his passion for the effort. Shuttle astronaut Ronald McNair, Ph.D., was a friend of Phillips, going back to their undergraduate days together. McNair died in the 1986 Challenger explosion, Phillips said. The Shuttle Endeavour was built to replace Challenger.

"I've always thought of him in the context of this project. I think a little bit of it had to do with my interest in these things always," he said. "But some of it had to do with the fact that hey, this is kind of Ron's ship. This is a replacement for Ron's ship."

Top featured image: Students present their research at Student Research Day Fall 2015.