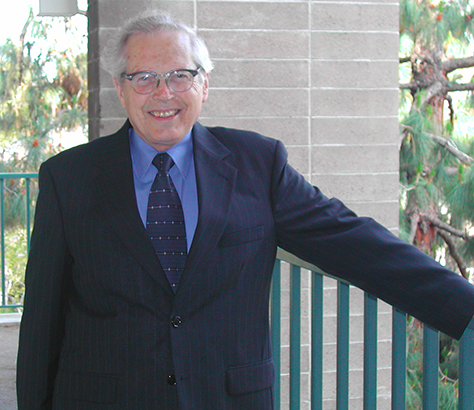 James C. Miller, professor emeritus at Chapman University, member of the Department of History faculty, and longtime inspiration to generations of Chapman students, passed away on Wednesday, November 11, 2015 at the age of 88.   Known as "Killer Miller" to countless classes because of his high expectations for his students and their work, and for his homespun "Things Mama Said" maxims, Jim Miller taught at Chapman for 47 years.
Miller was hired onto the Chapman faculty in 1956, two years after the college moved from Los Angeles to Orange, when it consisted of five buildings and just 250 students. His Chapman experience included 13 different offices, teaching classes in seven departments: cultural anthropology, speech, English, history, political science, religion and education.  The hundreds of students who passed through his classes included The Hon. George L. Argyros '59, who was in one of his speech classes; The Hon. Loretta Sanchez '82, who took a Miller history class; and current Chapman history professor William Cumiford, Ph.D., who took Miller's "History of the American West" class and remained a close friend.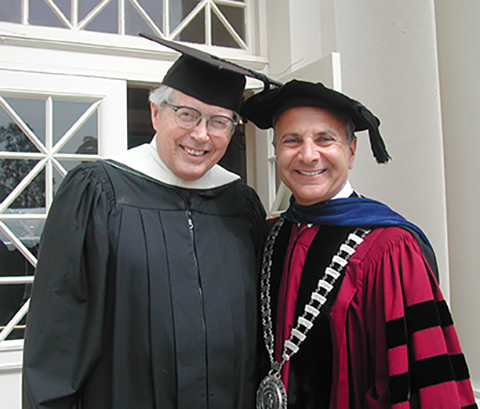 Born in Collinsville, Texas in 1927 (he never quite lost his Texas twang), Miller was the last of eight children and the first in his family to attend college.  His mother Exie was functionally illiterate, he recounted later, but wise in the ways of the world and humanity, teaching him invaluable life lessons that he would someday pass along to his students.  Chapman faculty and students alike came to treasure these nuggets of wisdom, which lightened the formidable academic load he always placed on students.  Examples: "Mama said, 'Tell the truth the first time; then you don't have to worry about how you told it before."  "'He talks pretty, but he's loud,' Mama used to say about me."  "I'm gonna study about that" was one of his  favorite "Mama-isms."
Miller was a veteran of the U.S. Coast Guard and the U.S. Marine Corps, serving during World War II and the Korean War.  He earned his bachelor's and master's degrees at the University of North Texas. He married Barbara Houck in 1953, and they had two sons, Gregg and Reade.
As a child, Miller had been expected to learn the "five R's" — reading, (w)riting and (a)rithmetic, along with respect and responsibility.  He passed that expectation along to his own students.  "If you asked students, they'll all say I respected them," he said in a 2003 interview, "even if I made them toe the mark."  His famous red pen would leave marks on every page of every student's essay — but students always left his classes with greatly improved writing skills, as well as a critical understanding of national history and the principles that guide America.
Miller was also known for his immense enthusiasm and love for teaching.  He would enter his classes at a fast lope, as if he couldn't wait to teach.  He was the first to credit his optimism and love for life to his deep religious faith — a lay minister, he led revivals and preached at a number of Southern California churches.
READ "Then and Now" – an essay about his life and times at Chapman, written by Jim Miller in 2003.
"He represents the best of the teaching profession," said Ambassador Argyros in 2003, when Miller retired from the faculty. "He's a great professor and a first-class human being.  He's always positive and has a great sense of humor."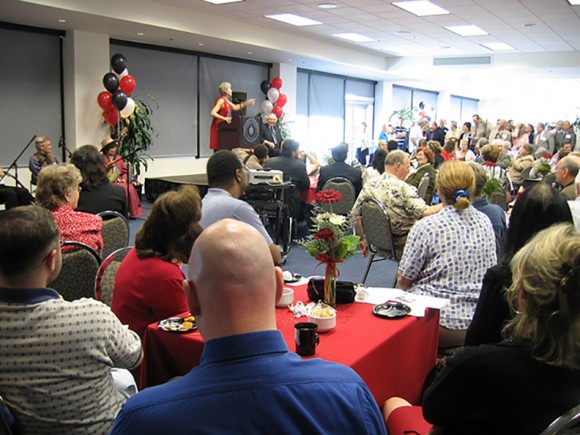 His retirement was heralded by a huge gathering of Chapman faculty, staff, students and alumni in May 2004, who all came to sing the praises of this humble, joyful man who raised the spirits of everyone around him and imbued them with his love of learning. "I'm hopeful, " said President Jim Doti at that retirement party, "that we will use Jim Miller as a role model of what a faculty member can and should be."
The Jim Miller Parking Structure — fittingly located near the student residence halls — was dedicated in Miller's honor in 2003, and an endowed Chapman scholarship was established in his name that same year.
A visitation will be held on Tuesday, November 17, 2015 at the Shannon-Bryan Mortuary in Orange, Calif., from 5 p.m. to 9 p.m. A memorial service will be held at the United Methodist Church in Collinsville, Texas on Monday, November 23, 2015 at 11 a.m.  Burial will be in the Collinsville Cemetery following the service.  Chapman University is planning a celebration of Jim Miller's life during the spring semester; more information will be forthcoming at a later stage.
In lieu of flowers, the family requests that donations be made to Cal Farley's Boys' Ranch in Amarillo, Texas — a favorite charity of Miller's.
Please feel free to share your memories of Professor Jim Miller in the comments section below.