The Rev. Gail Stearns, Ph.D., dean of the Wallace All Faiths Chapel at Chapman University, was presented with a Spirit in Action Award by the Interfaith Council of Garden Grove, Stanton, and Westminster at its 16th Annual Unity Banquet on Sept. 26.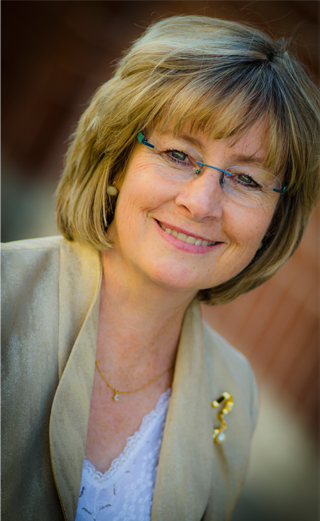 The award is given by the council  to Orange County leaders and organizations that work within a diverse population to promote positive activities and better the community by partnership, education and service.
Stearns' interfaith and diversity work at Chapman has had a remarkable impact on the community and led to her nomination, said Ann Nguyen, council president.
"Your ability to bring diverse groups together to foster interfaith dialogue and understanding, as well as your desire to encourage all as they shape their own spiritual journeys is well known. Your passion for your work, your enthusiasm in your teaching and your ability to create memorable interfaith experiences for all in Orange County is one of the reasons the committee chose you as one of this year's recipients," Nguyen wrote in a letter to Stearns announcing the award.
Other 2015 Spirit in Action Awards went to author and filmmaker Ruth Broyde Sharone
and Monkey Business Café, a nonprofit youth development program and restaurant in Fullerton.
Stearns, who is also an associate professor in the Department of Religious Studies, joined Chapman in 2011. She is the author of
Writing Pauline: Wisdom From a Long Life (Hamilton Books, 2005) and Open Your Eyes: Toward Living More Deeply in the Present
(Wipf & Stock, 2011).