Big-wave surfer and Chapman University biology professor William Wright, Ph.D., has not solo hiked the better part of the Pacific Crest Trail in a single grueling season like author Cheryl Strayed. Nor has Claudine Jaenichen, chair of the Department of Art. Likewise for most of the hundreds of people expected to turn out for the Sept. 29 visit of Strayed, who recounts her life-changing adventure in her best-selling memoir,
Wild
.

But other on-the-brink moments, be they physical tests or creative dares? About that they know plenty.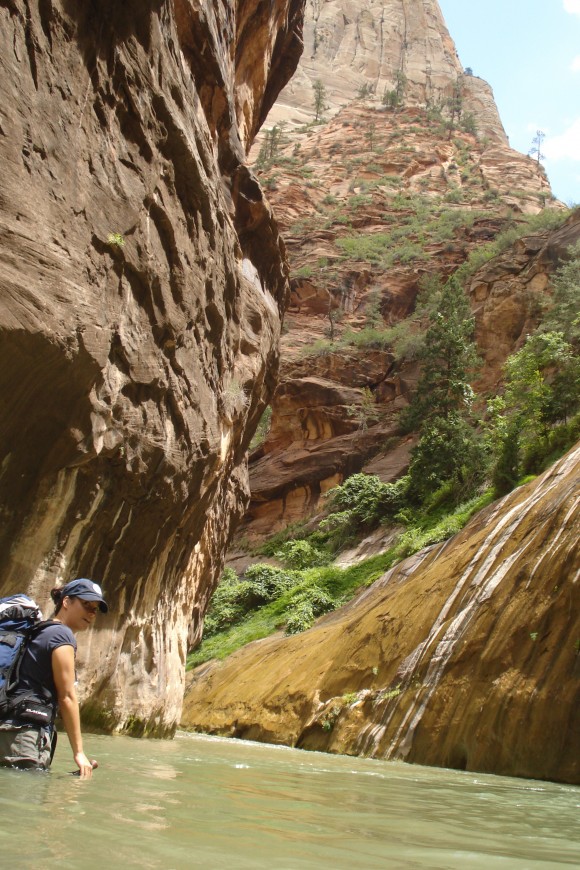 "Whether it be hiking, swimming, or surfing, daily exercising to the point of 'can't do that anymore' changes your brain," says Wright who travels to Mexico twice a year to "binge" surf its monstrous waves. "It lets you see things from a different perspective."

Meanwhile, from the comfort of her desk some creative projects are so challenging they make Jaenichen feel like she's jumping off a cliff. Then they surprise her when she lands with a startling new idea.

Helping people find paths to all those kinds of knock-your-socks off experiences is what the event
INTERSTICES: ReWILDing With Cheryl Strayed
hopes to accomplish. INTERSTICES is an annual program hosted by Wilkinson College of Arts, Humanities, and Social Sciences. It's designed to bring students and faculty together for discussions into the nuts and bolts of making creativity happen. This year's theme examines how people can foster creativity by venturing literally into nature, as well as diving into risk taking in their work.

It's a topic near and dear to the heart of the Chapman community. Many, from
President Jim Doti
, who often writes about insights gleaned from his climbing and running adventures, to the students who sign on for first year
Wilderness Treks
, study abroad and adventures, share tales of eye-opening journeys. More student and alumni adventures are circulating under
#CUWILD Story.


Take a hike


The University Program Board is planning a Saturday, Sept. 26, hike at Vasquez Rocks for students and alumni. Find registration details at the Wilkinson College Blog.

Find the full schedule of Interstices events online.

The physical achievements are impressive, but it's not really about tallying up feats of strength, say those who do all this hiking, climbing, running and surfing.

For Wright, his weeklong surfing "war parties" spark a collision of creativity, personal reckoning and science. Scientists know that regular robust exercise helps the brain create new brain cells, a process called neurogenesis. Wright, who studies similar processes in marine invertebrates, from sea hares to limpets, says that for him such exertion also flexes his creativity muscles and lends "a little wisdom."

"I've had sudden shifts of perspective while getting in shape (for the trips), particularly in the mornings after a big workout," he says.

Jaenichen, who will be among the faculty members on the discussion panel with Strayed, has felt similar changes in outlook when she put herself in tricky spots. She's been in nail-biting situations, including a slog through Zion's The Narrows when she waded through neck-high water while a thunderstorm threatened in the distance. It's a hike she now realizes was fraught with danger and could have ended badly.

Disconcerting to her on a different level was the task of designing a map-like poetry journal so deliberately disorientating that it forced readers to discover the content by wandering around the pages.




"That was terrifying," says Jaenichen, a graphic designer tapped by California coastal cities to create their
emergency evacuation diagrams
.

But both adventures were about "putting yourself in displacement … What does fear do when you put yourself in a situation of being displaced?" she says.

Thankfully, an investment of less fearful amounts of sweat and grit can also produce wonderful moments of clarity. Physical therapy graduate student Grafton Prewett thrives on backcountry skiing, a type of wilderness snow trekking that involves hiking, rock climbing and cross country skiing to remote and powdery downhill terrain.

"It's the good snow that nobody else has touched," Prewett says. "It really just feels like you're bounding out on top of a cloud."

But since relocating from his hometown of Lodi, Calif., to study physical therapy, he says he's learned to make do and glean bits of that delight from trail running in Orange County foothills.

"I have ah-hah moments out there all the time. My phone is full of notes," he says. "Just the act of being outside and exercising gets the brain working better."

That kind of exertion is like a stress blocker for Patricia S. Brown, DPT, assistant professor, in the Physical Therapy program. Brown enjoys Sierra hikes, complete with the bracing cold of high-altitude lakes.





"You're sweating and you're hot and there's this pristine lake. It's just still and you take off your shoes and you put our feet in the water and you kind of release the toxins of society," she says. "And the smell is just clean. Even though it's relaxing, your body is actually at a higher level of alertness."

Most summers, Nancy Martin, Ph.D., associate professor of religious studies, and partner Javier "Hawk" Davila complete a one-day trip from the North Rim to the bottom of the Grand Canyon and back. It's tough, but doable. And that's the point.

"It's a question of having your mind in the right place so that you can accept what happens. If you just focus on how hard it is, you aren't going to make it. It has that quality of a focused, attentive ordeal a pilgrim makes," Martin says. "You have to go in the right frame of mind."

Still too intense? Not to worry. The Interstices panel discussion won't be just about the wilderness life. Many techniques abound for those looking to kindle some new ideas, Jaenitchen says.

She should know. Jaenichen is also the author of
Camp-o-holic: Checklists, tips and easy packing for indulgent camping trips
. It's chock full of organizing tips, recipes and open pages for journaling. And though it may be more mild than wild, she promises there are benefits to silencing the cell phone and hopping off the multitasking trail for a weekend jaunt where the biggest decision is when to start the campfire.

Says Jaenichen, "It could be just really amazing."