Luis Genis '15 has been busy in the brief time since graduation. As a water use efficiency specialist for the Irvine Ranch Water District during a drought, his work has been in high demand.

Not to mention, his face and personal story as a transfer student will appear on this fall's transfer student literature and brochures for Chapman University. Beyond that, he's traveled to Honduras for humanitarian work. Now, he's packing his bags for two years abroad in Nicaragua to work with the Peace Corps.

Why the trade up from Irvine Ranch to the Peace Corps?

"I want to do something different, make my own path," Genis said. "I want to set a good example for my younger siblings to follow."

His story starts a few years ago when he was university hunting. He was looking locally at the usual suspects, but wanted to find a better, more technical match for his degree field:
Environmental Science and Policy
. He really wanted to learn more about water — how it gets to people, how it's cleaned, how the systems are run and how to get it to where it is needed most. Plus, he wanted some hands-on experience.




He made the leap across central Orange County to Chapman, a jump he says has made a world of difference.

"Chapman opened up a lot of doors for me," Genis said.

It wasn't always easy. Genis admits to feeling a little self-conscious, out-of-place and having to make the call to handle family more often than be on campus. He had to work hard. But the work paid off. He's doing what he loves and traveling the world to do it.

And as for being the face of Chapman's transfer student population?

"I'm honored," Genis said.

If Chapman opened doors for him, it also turned on the faucet, so to speak.
Transfer Tipping Point

"I came to know Luis just through working with him through the admission process," says Shannon Crogan, Chapman's associate director of admission. "Luis is a first generation college student with a lot of demands from his family so I knew there were going to be times while he was here where school wasn't his only big commitment."

Crogan worked with Genis throughout his time at Chapman. Crogan herself was a transfer student once and knows the challenges that can come from starting somewhere new halfway through your education.

Coming to Chapman was a culture shock Genis said.  The pace of work and life moves differently here than at Vanguard, or Santa Ana City College.




He said he had some trouble adjusting and sometimes felt self-consciously out of place as a transplant. He's a first generation college student, something he said comes with its own challenges.

"Despite personal commitments and some family challenges along the way, Luis just always had a great attitude and had a huge determination to finish his bachelor's degree. When I heard of the wonderful opportunity he now gets to be part of … I was so happy for him and so happy for his family too.  I'm sure Luis's family made just as many commitments to get him through Chapman as Luis himself," Crogan said.

Events with his family kept him at home more often than not, which he says prevented him from being as active on campus as he felt he should have been. That's one of his biggest regrets. If he had to do it over again, he says he would have spent more time physically on campus and been involved in more clubs and organizations.
Water, Water Everywhere

Genis says his life is water, water and more water. In this drought, it's a lot of what to do with less of it. But getting his education is what allowed him to get his feet wet.

Once at Chapman, he was able to dive in, no pun intended, to the world of water management and treatment. Part of his university education involved getting linked up with the Irvine Ranch Water District for an internship, which hired him on the day he graduated college.

He used that experience to parlay into the recent trip to Honduras with the
Global Brigades
program. While there, he helped install a 10,000 gallon clean water tank system that uses gravity to deliver water to villagers who live below the tank.

The Chapman University team was complimented by another Global Brigades student group from San Diego State University. Together, they worked on the water tanks system and also taught school children the importance of clean drinking water and good dental hygiene.

Next on the docket is his two years in Nicaragua with the Peace Corps. He's taking nothing with him but a camera and the clothes on his back.

"I want to live more like the people who are from there — to better assimilate and understand it," Genis said.

He's going to work in some of the poorest regions there to develop clean water systems.

His other job is going to be teaching third grade students about water cleanliness, which he's admittedly excited for.

"I love kids," Genis said, laughing.

This fall, his face and story will grace the pages of Chapman's transfer student brochure, but he will already be a world away.

He's not sure where the road will take him when he's done with the Peace Corps, but 2017 is still two years away.

And as for advice for other students thinking about transferring to Chapman?

"You're going to get a culture shock. Always ask for help – your professors want you to succeed. Make friends, get involved," Genis says.

Anything else?

"Oh yeah – study hard."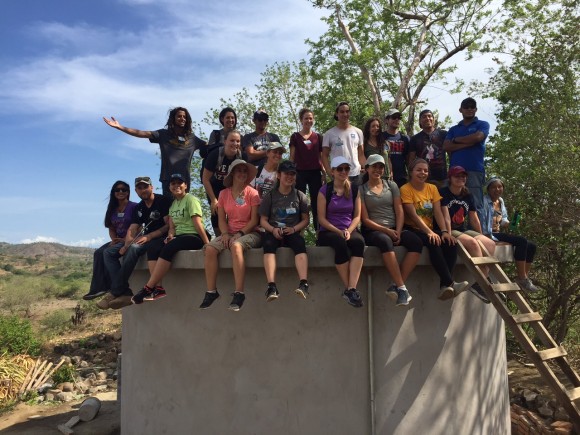 Pictured in feature image at top: During a Global Brigades trip to Honduras, Luis Genis and other Chapman University and San Diego State University students worked to bring clean water systems and educate young children about dental hygiene. In this classroom setting, village children were taught about the importance of brushing their teeth.