It was a delight to watch American Pharoah fly across the finish line at Belmont Park to become horse racing's first Triple Crown winner in 37 years. But what does the history-making moment mean for the horse racing industry? We asked Darcy Fudge Kamal, Ph.D., assistant professor at the Argyros School of Business and Economics, a strategic management scholar, horsewoman and racing industry expert, to weigh in.
The Belmont Stakes was a tremendous race, and I'm still really in utter disbelief that there is actually a Triple Crown winner once again! It is truly an amazing feat and a great honor for all of the people involved in the care of American Pharoah. The jubilation amongst the close-knit horse community is wonderful.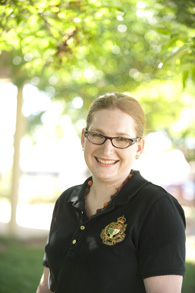 But will the excitement and attention give the horse racing industry a lasting boost? I think many in the industry thought that a Triple Crown winner would "save the business," and to a certain extent the industry does get a lift from enhanced media coverage, which has steadily declined since the 1980s. However, if the recent fight between Manny Pacquiao and Floyd Mayweather is any indication, the boost in media coverage alone will not save an industry or a sport in decline. A caveat on the boxing analogy: Unlike the Pacquiao vs. Mayweather fight, American Pharoah's dominance is unequivocal, and there is no controversy over the horses that lost to American Pharoah in any of the Triple Crown races.
As I discuss with my MBA students in Strategic Management (Business 612), there are fundamental structural challenges that persist to make the horse racing industry relatively unattractive and which challenge the staying power of American Pharoah's boost. The purse money for winning a race has not kept up with the increasing cost of owning and training a racehorse, making it increasingly unattractive to own a racehorse. Not only are profits from racing a gamble, but when your horse does win you are still likely to come out behind.
Breeding vs. racing
This problem affects both supply and demand. There is now greater interest in breeding horses and selling them before they race (where at least profits are relatively predictable) than in assuming the expense and risk of racing. American Pharoah's breeding rights were sold before he completed the Triple Crown. (The price wasn't disclosed, but it's rumored to be $20 million — about three times more than rumored deals for recent Triple Crown hopefuls I'll Have Another or California Chrome). The Triple Crown gave additional fame and glory, and surely more opportunities for American Pharoah's connections, but interest in the the horse had already peaked, as he had proved himself worthy of the breeding market without winning the Triple Crown.
On the demand side, there are fewer prospective racehorse owners. American Pharoah's breeder and owner, Zayat Stables, bought him back from the auction because the bids did not match expectation. As stated earlier, there is a weaker market for potential new racehorses, in part because of insufficient prize money. The average owner must have at least $200,000 of excess liquidity to fund racehorse ownership — let alone fund a horse that qualifies for the Kentucky Derby.
Bring back horse sense
A living being as great and majestic as the horse requires owners to have a substantial body of knowledge to make informed decisions. The complicated and nuanced understanding is daunting, to say the least. Racehorse owners typically have some exposure to horses in the past, or close access to knowledgeable bloodstock agents to advise them. However, with demographic and technological shifts away from traditional rural life, many people have no exposure to horses, let alone horse racing.
When people find themselves at the racetrack, the majesty of the horse is eclipsed by a number of ethical concerns facing the industry. Horse racing in America, unlike other professional sports, does not have a centralized league authority. As a result, the industry struggles to find and enforce solutions to doping, whipping and racehorse after-care quickly enough to stem negative societal perceptions. For example, Helwan, a horse listed on the under-card of the Belmont Stakes, was euthanized due to a fracture sustained during his race. The industry has acknowledged a number of these ethical and social challenges, even creating some wonderfully innovative responses such as pairing disabled ex-racehorses with inmates. Unfortunately, this industry information is not likely to reach novice race-goers before they leave the racetrack feeling disillusioned.
Having a Triple Crown winner is a wonderful boost to the industry. However, as California Chrome trainer Art Sherman said last year, change will come but it may be slow. Still, there are examples of progress. A number of states and racetracks are changing their policies on the use of drugs on race days as well as the use of whips during a race. In addition, racetracks are consolidating race days to offer better purses for owners, and breeders are funding racehorse re-homing programs so fewer horses go to slaughter.
Lessons from the NFL
The next steps for the industry will be to find ways to use marketing and technology to help educate race fans and potential owners in a friendly accessible manner. For example, fantasy football leagues have converted many women into fans of the NFL, opening up a whole new fan base. Yet, many new race-goers are unaware that similar leagues exist for horse racing.
The right mix of fan activities can fuel our joy and passion for the horse. A little more champagne and fanfare, along with education to teach us about the guts and glory of horse ownership and racing, will sustain one of America's most historic sports for decades to come.
(Top image/Belmont Park photo by Susie Raisher)