Nicol R. Howard, Ph.D., ('15) and Rene Israel German ('15 M.S.) have been selected for the highest honor for graduate students at Chapman University, The James L. Doti Outstanding Graduate Student Award.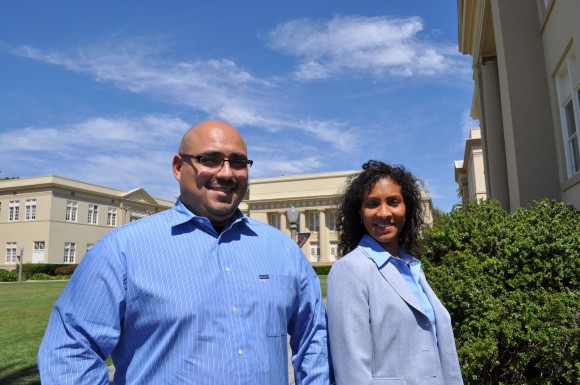 The award is conferred annually to the outstanding graduating master's and doctoral students with distinguished records of academic accomplishment, scholarship, and/or service. The names of the award recipients are permanently inscribed on the campus' Doti Award trophy, which incorporates artist Nick Hernandez's sculpture Emergence, and is on display in Argyros Forum. Each recipient receives a desk-size copy of the trophy, an award of $1,000, and is recognized at their school's commencement ceremony.

Howard received a Ph.D. in education with an emphasis in cultural and curricular studies. Her nomination from the
College of Educational Studies
states, "She has demonstrated a consistent history of caring and service, along with an indefatigable and vibrant search for knowledge and the advancement of research to benefit children."

Howard's research has recently focused on the predictability of STEM achievement in algebra for female high school students utilizing parent involvement. She has also written several articles focused on effective technology use in the classroom. In addition to teaching and developing courses at Chapman, Howard has been working in the public school system for the past eight years, and currently teaches in the Santa Ana Unified School District.

German is receiving a master of science in computational and data science. His nomination from
Schmid College of Science and Technology
states, "To those of us in the Schmid College that have gotten to know him since he arrived at Chapman over 12 years ago, Rene is more than just an outstanding student. He is a talented teacher, genuine mentor, and a dependable colleague." He currently works in Chapman's Machine Learning and Assistive Technology Lab, where he tackles research problems in autism and ABA therapy. German is an adjunct professor at Chapman and has served as senior software engineer for Core Logic. Recently, he became lead software engineer for
grandPad, Inc
.