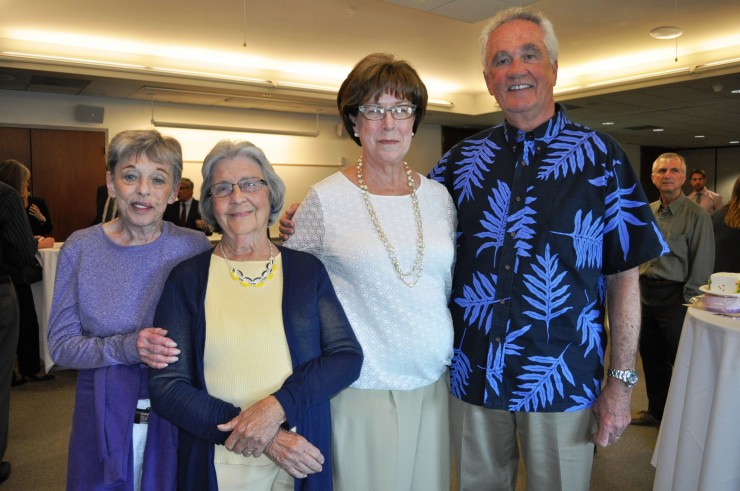 His first job at then Chapman College was as a student groundskeeper. And now after 40 years in the Office of Admission, Michael O. Drummy '74 retires June 1 as Chapman University's assistant vice chancellor and chief admission officer.

A few changes through the decades? You bet. And why is he usually seen in Hawaiian shirts? We'll get to all that. But first, a story about geraniums.
Q. Any horror stories of aphid-infested rose bushes or blighted lawns from your groundskeeper days?

A. I worked my way through Chapman as a student taking care of the landscaping around the dorm area. No horror stories I can recall, but I did regularly steal geranium cuttings from around the neighborhood – with my boss's knowledge – to plant on campus because there was no budget to buy plants. And some of them are still here!
Q. What are some of the biggest changes you've seen through the years since you joined the Office of Admission in 1976?
A.
When I started here Chapman was a backup plan for most applicants, and now we are the first choice of most applicants. That shift is truly remarkable. Other changes are, of course, how the faculty and programs have grown and distinguished themselves over the years, and how so many trustees, faculty and senior administrators worked to transform Chapman. I've seen a lot of key people contribute mightily to build what Chapman is now. But without a doubt the two most influential have to be Ambassador Argyros and President Doti. If those two men had never touched Chapman we would still be just one of the pack. The campus, of course, has blossomed like none of us ever dreamed it would, and as an alum I couldn't be more proud. I love it when alums who haven't been on campus for years come back and walk around with their mouths hanging open!
Q. Hawaii was your first recruitment territory. Was there a particular reason Chapman reached out to the islands?
A.
We were known in the islands for the World Campus Afloat – Semester at Sea program, which frequently stopped there, so I didn't really start that territory, rather I inherited and developed it. My first boss, Mike Fox, knew I had lived there for a year right after I graduated from Chapman so he thought I'd do well over there. I've been responsible for lots of other recruitment territories over the years. I'm sure I've been in every high school in Southern California and most in Northern California, too. But the Hawaii relationships have always been very special. We are definitely a major destination school for students from Hawaii.
Q. So how many Hawaiian shirts do you own?
A.
I have no idea. Probably 40 or 50. And I was given a new one last week when I was over there to be honored by the Hawaii Association for College Admission Counseling, for 40 years of distinguished service to their students and schools. That was quite an honor.
Q. The admissions process is fraught with emotion and intense competitiveness today. Any advice to families out there?
A.
I've been on both sides of this situation, having had both of our children go through this process. I always recommend that parents encourage their students to allow them to do their own "due diligence" by examining and being thoughtful about what they are looking for in a college environment, then undertake the investigative work as a family team, but allow the student to take the lead in the process. I always recommend the family try and visit whatever colleges the student is considering; apply to a group of schools that have a range of selectivity in context with the strength of the students' credentials. In other words, don't only apply to Ivy League schools if the student has a 3.0 GPA.

And never make assumptions about the state of the application. For example, if the student asks a teacher or counselor to send a recommendation letter on their behalf, don't simply assume they've done that. Check with the colleges to make sure the documents have been received. Every year we have files that remain incomplete because applicants don't follow up on their own behalf.