Chapman University's Center for American War Letters has been awarded nearly $40,000 by the National Endowment for the Humanities to begin digitizing its expansive collection of correspondence written by military servicemen and women from the Revolutionary War to current conflicts.
The grant was one of several funded under NEH's Standing Together initiative, which encourages funding for projects that explore war and its aftermath, promote discussion of the experience of military service, and support returning veterans and their families.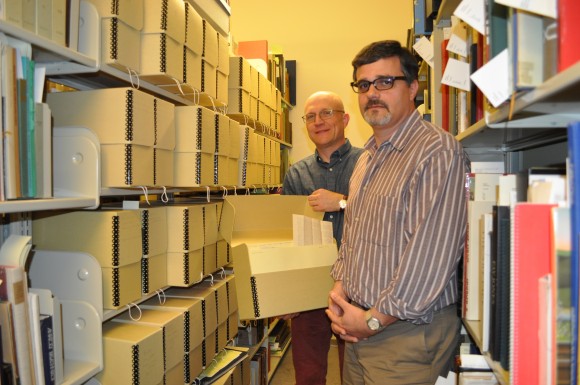 "To make this a usable and important collection it is important to get this digitized. Anything other than that is not doing what it deserves," said Rand Boyd, coordinator of Special Collections & Archives and associate librarian. Boyd and Douglas Dechow, Ph.D., digital humanities and science librarian, are the principal investigators for the grant project.
The grant dovetails with the University's new master's program in war and society that debuts in the fall and the announcement that Jennifer Keene, Ph.D., chairman of the Department of History, has been elected vice-president of the Society for Military History. In two years she will become the society's president for a two-year term.
Managed by the Leatherby Libraries, The Center for American War Letters (CAWL) is home to some 98,000 letters, as well as a growing body of emails from recent conflicts.
The grant will help the library take the first steps toward digitizing and cataloging select materials, Dechow said. Also among those tasks is securing family permissions to make them widely available online to all readers, from scholarly historians to genealogy buffs. Without permissions they could be accessed for study only by library visitors and online to a limited community of academic scholars.
Eventually, Dechow and Boyd plan to pursue additional grants and funding to digitize and catalog the entire collection. Such a database would be a treasure to digital humanities scholars studying everything from post-traumatic stress disorders to generational shifts in language and word choices used to describe the experience of war.
"Once they're digitized and transcribed they can support all sorts of interesting inquiries," Dechow said. "We can put machine learning algorithms on top of this and find out – this is very speculative – but perhaps find out notions of fear over time."
The lion's share of the letters were donated to Chapman by Chancellor's Fellow Andrew Carroll, editor of several
New York Times
bestsellers, including
War Letters, Letters Of a Nation,
and
Behind The Lines.
The library continues to receive additional donations.