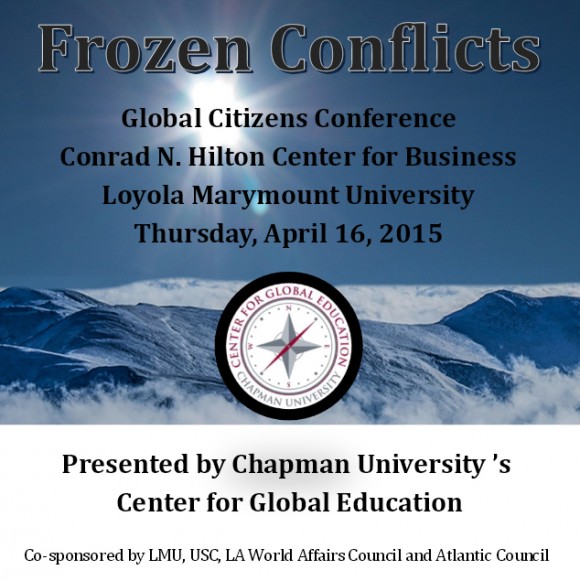 Experts from around the world will gather at Chapman University's "Frozen Conflicts" Conference — the annual Global Citizens Conference presented by Chapman's Center for Global Education — on Thursday, April 16 from 8:30 a.m. to 5 p.m.  The conference will examine longstanding global conflicts that have evolved into de facto "cold wars," with both sides eying each other warily as hostilities wax and wane.  Experts on the conflicts in Ukraine-Moldova-Georgia, Armenia-Azerbaijan-Nagorno Karabakh, Ireland-Northern Ireland, the India-Pakistan dispute over Kashmir, and North Korea-South Korea are scheduled to participate on panels.
The conference — co-sponsored by Loyola Marymount University (LMU), the University of Southern California's Center for International Studies and School of International Relations, the Los Angeles World Affairs Council and the Atlantic Council — will take place at Loyola Marymount University's Conrad N. Hilton Center for Business in Los Angeles.  Admission is free and open to the public.  For more information, a full conference schedule, maps and directions, visit the conference website.
"In the world today, there are numerous simmering conflicts of neither overt hostilities nor resolution," said James Coyle, Ph.D., director of Chapman's Center for Global Education and conference organizer. "This conference will examine several of these controversies that have been 'frozen' in place, despite attempts, sometimes decades long, to bring closure to these armed standoffs. Clearly, something must change with the dispute resolution models that are being followed. We hope in the conference to discover commonalities among the conflicts, and explore new ideas to resolve them."
Experts on the panels include Doris Barnett, a member of Germany's Bundestag; Robert English, director of USC's School of International Relations; Temuri Yakobashvili, Georgian Ambassador to the United States and former Georgian State Minister for Reintegration; Edward W. Walker, executive director of UC Berkeley's Program in Eurasian and East European Studies; Oleksandr Chalyi, president of Grant Thornton (Ukraine); Stepan Grigoryan, chairman of the Analytical Center on Globalization and Regional Cooperation;  Wenshan Jia, professor of communication theory and expert on intercultural and global communication at Chapman University; Asim Mollazade, chairman of the Democratic Reforms Party of Azerbaijan; Paul Arthur, interim director of the Peace Studies program at Chapman University and honorary professor of peace studies at the University of Ulster; David Koranyi, director of the Eurasian Energy Futures Initiative at the Atlantic Council and former Undersecretary of State to the Prime Minister of Hungary; Brenna Powell, associate director of the Stanford Center on International Conflict and Negotiation; Byron Bland, senior consultant for the Stanford Center on International Conflict and Negotiation and lecturer in law at Stanford University; Bharath Gopalaswamy, acting director of the South Asia Center at the Atlantic Council; Charlotte Kennedy, former Australian diplomat who spent three years serving in the Australian High Commission in Islamabad; Kathleen Stevens, former U.S. Ambassador to the Republic of Korea; Terry McCarthy, president and CEO of the Los Angeles World Affairs Council; Lynn Turk, retired U.S. Foreign Affairs officer who served in Korea and led the first-ever U.S. diplomatic delegation to North Korea; and Bruce Bennett, senior defense analyst at the RAND Corporation.