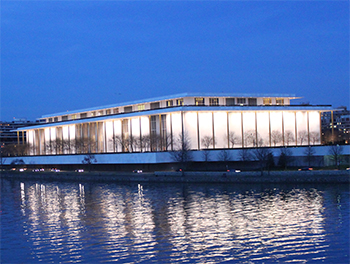 In honor of Memorial Day,  a Chapman University play will be performed at one of the nation's most prestigious venues.  The John F. Kennedy Center for the Performing Arts in Washington, D.C. will present
two performances of If All the Sky Were Paper,
a compelling drama written by Chapman University Chancellor Fellow
Andrew Carroll
and directed by theatre professor
Jon Benitz
. The play is based on Carroll's best-selling books
War Letters
and
Behind the Lines.
It centers around actual correspondence between U.S. military members and their loved ones.

Produced by Lexikat Artists in association with Chapman University's Center for American War Letters, the performances will take place on
Thursday, May 21 and Friday, May 22
at the Kennedy Center's Terrace Theater. The play will feature
Mamie Gummer
(
Emily Owens, M.D., The Good Wife
),
Gary Cole
(
VEEP, Pineapple Express, Office Space
),
Jason Hall
(Academy Award–nominated writer of
American Sniper
),
Michael Conner Humphreys
and others to be announced. All proceeds will benefit the Kennedy Center Education Fund. Following the performance, audience members will have a chance to discuss the play with Andrew Carroll, John Benitz and the cast members.

In advance of the performances, director John Benitz and writer Andrew Carroll sat down with WTMD's Alex Cortright to discuss the play.



If All the Sky Were Paper
premiered at Chapman University in 2010. Since then, the play has been awarded grants from The National Endowment for the Arts and Cal Humanities to help reach audiences around the country through a series of readings and performances. Previous performances in New York, Los Angeles and Seattle have met with acclaim from audiences and critics alike.
The Center for American War Letters

The Center for American War Letters (CAWL) is a unique and
extensive manuscript collection of previously unpublished war letters
from every American conflict, beginning with handwritten missives composed during the Revolutionary War and continuing up to emails sent from Iraq and Afghanistan. These personal war-time correspondences are a vital record of the collective memory of the American people, as witnessed and articulated by service members, veterans, and their loved ones, who experienced these wars firsthand.