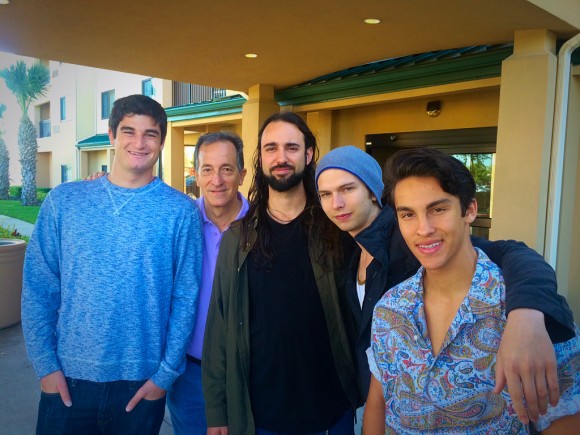 The Chapman University Guitar Quartet — comprised of students Sean Atkinson '16, Nate Brown '16, Chris Horney '15 and Brandon Miranda '16 — has won first place in the Collegiate Quartet Division of the 14th Annual Brownsville Guitar Festival and Competition, held at the University of Texas, Brownsville.  It's the third time a Chapman student guitar ensemble has competed in the prestigious Brownsville festival, and the third time taking home honors, after previously winning in 2009 (first place in the quartet and duo divisions) and 2011 (first place in the trio division and third place in the quartet division).
"The Quartet did a smashing job in front of a live audience and the judges," reports Jeff Cogan, associate professor and director of the Guitar Studies Program in Chapman's Hall-Musco Conservatory of Music. This year, the competition and festival attracted 150 participants in several divisions.
Hear and see a sample of their winning music here.
The repertoire performed by the Chapman group included "Soleil levants" by Roland Dyens and the first movement of the "Italian Symphony" by Felix Mendelssohn.  "It's notable that the guitar quartet arrangement of Mendelssohn's symphony was made by Chapman guitar alumnus Daniel de Arakal '10," said Cogan.  "He was also a member of the award-winning group from 2009 and is currently teaching part-time in the Hall-Musco Conservatory."
The Chapman Guitar Quartet was also selected to  perform in a master class in Brownsville with Russian guitarist Anton Baronov, who is currently on a national tour of the U.S.  Baronov is a recent winner  of The Guitar Foundation of America International Concert Artist Competition.
The Chapman Quartet was able to make the trip due to generous support from College of Performing Arts Dean Dale Merrill, Associate Dean Louise Thomas, and Donald Booth, Ph.D.
"I'm very proud of our students," said Cogan.  "I'm especially excited to see the progress and growth of these young musicians – so please join me in congratulating these fine students!"