"Leon Leyson was only ten years old in 1939 when Germany invaded Poland. After the invasion, Leon and his family lived in the Krakow ghetto. They did what they had to do to survive, but they were not living, they were merely existing, for what kind of life does one live with fear and terror constantly knocking on his door?"

Those words are an excerpt of the essay that Cameron Martin, a middle school student at Serra Catholic School, wrote based on the testimony of Holocaust survivor Leon Leyson, an essay that won her first place in the category middle school writing at the 16
th
Annual Holocaust Art & Writing Contest
. The event was presented by The 1939 Society and Chapman University and took place in Memorial Hall on Friday, March 6.




Martin was inspired by Leyson's experience as a worker in Oskar Schindler's factory. Martin said that while writing the piece she was influenced both by Leyson and Schindler, and how Schindler showed courage to do the right thing at times when his actions could have resulted in terrible consequences for him.

"His (Leyson's) suffering inspired me to take action even in times when I am afraid," Martin said. Through this event Martin met Leyson's wife, an experience she described as "unreal."

Memorial Hall was full of students, educators, survivors and visitors as President Jim Doti and Marilyn Harran, Ph.D., director of the Rodgers Center for Holocaust Education, welcomed the attendees.

"This year we celebrate the most schools, students and teachers we have ever had in the contest" Harran said. "We have registered 209 schools from 120 cities in 26 states, including two schools abroad: one in Kosice, Slovakia, and the other one in Shanghai, China."

William Elperin, president of the 1939 Society, said it is the organization's privilege to be involved in this project since its inception.




"It is amazing to see that in the first year we had maybe 50 to 75 students, and now we are up to 7000," Elperin said.

One of the most moving and inspiring speeches was delivered by Holocaust survivor Jack Pariser.

"In 1939 I was 9 years old, I had just finished third grade and my family and I had a good life. Suddenly everything changed. We were now not people," Pariser recalled.

Pariser lived in Jodlowa, a small town south of Krakow, when Germany invaded Poland. Pariser's family escaped the town and for the next few years they were hiding in the forests and in the barns and bunkers of his father's Christian friends. At one point the Parisers were betrayed and they ended up in prison, from which they escaped by digging a hole in the wall using a pen knife. They were hiding until the end of the war, and in 1949 they emigrated to the United States, where Pariser married and eventually moved to California.

"Do no harm," were the words Pariser used to conclude his speech and the ones he asked the audience to repeat aloud, embodying the message that he hoped the next generation could live in a genocide-free world.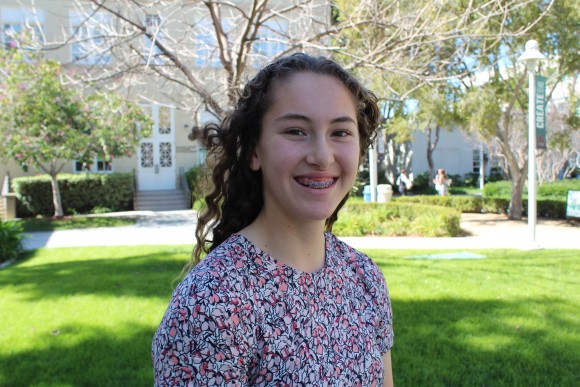 Joshua Sands, a student at Acaciawood College Preparatory Academy in Anaheim who won first place at the high school art division, has participated in this competition four times, twice winning second place. Sands said that this year he was inspired by Hilde Scheraga's testimony and Norman Rockwell's iconic painting "The Problem We All Live With."

"I could contrast these two by showing how Norman Rockwell's painting showed that the American government protected people from racial discrimination, but in Hilda's case the German government was the actual source of discrimination," Sands said.

Acaciawood Preparatory had one more winner in the name of Caleb Penner, whose poem "The Flow of Tears" won best written material by a high school student. Penner said that he was inspired by survivor Harry Fern's testimony that he watched a few times before one moment stuck with him.




"Fern talked about how throughout the Holocaust he didn't shed one tear, it was after the war when he came to America that he cried for the first time, and his tears washed away all of his hate and unforgiveness," Penner said.

Hannah Walz, a student at Saint Cecelia Catholic School in Tustin, won the second place in the category of middle school film.

"I was bullied in the past, so the story of the holocaust was an immediate connection for me of suffering and suffering put together" Walz said.

Harran stated that the interaction between the students and the survivors is the highlight of this event.

"The survivors feel that not only their stories are going to be remembered, but they are going to inspire students to step up today, to intervene, to stop bullying and really be positive voices for the future," she said.

(Featured image at top is by Joshua Sands, first place winner in the category of high school art.)