Several Chapman University theatre alumni will join an all-star cast, including Annette Bening, the recent recipient of Chapman University's Lifetime Achievement in the Arts Award, in two upcoming performances of If All the Sky Were Paper, written by Andrew Carroll, a chancellor's fellow, and directed by John Benitz, associate professor.
The performances will be Saturday, March 14, at 7:30 p.m., and Sunday, March 15, at 2:30, at The Kirk Douglas Theatre in Culver City. Bening will be featured only on Sunday. Chapman theatre alumni working in the production include Matt Gallenstein, Connor Brown, Sam Weiner and Garrett Schweighauser, and Kim Webber as stage manager.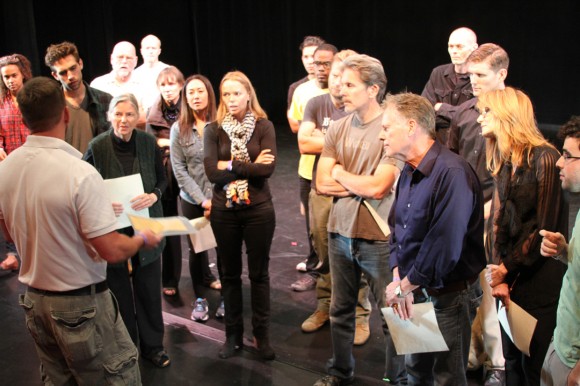 Schweighauser portrays the narrator, which he played in the world premiere in 2010 at Chapman, where correspondence featured in the play are collected at the Center for American War Letters.
For this production, Schweighauser competed for the part with a host of Los Angeles-area actors, Benitz says. After a day of auditions, Benitz says, the decision to cast Schweighauser was clear.
"He really rose up. He earns the role," Benitz says.
Cast in both performances are John Marshall Jones (The Mentalist), Sandra Seacat (You Don't Know Jack), Gary Cole (Veep), Lauren Bowles (True Blood), Brad Hall (Saturday Night Live), Jason Hall (American Sniper), Monique Edwards (The Social Network), Kate Mansi (How I Met Your Mother) Kevin Bailey (The Lion King on Broadway), Christopher Sweeney (Chasing Mavericks), Jodi Kimura (South Pacific, Center Theatre Group) and Michael Nehring, professor, Department of Theatre.
"This play really connects with the audience in profound ways."

John Benitz, associate professor, director of If All the Sky Were Paper.
If All The Sky Were Paper is based on Carroll's bestselling books War Letters and Behind The Lines. The award-winning play brings to life the war-time letters of armed-forces members caught up in the American Revolution, Civil War, World Wars I and II, Vietnam, Desert Storm, Iraq and Afghanistan. Selected letters range from those written by wistful farm boys-turned-soldiers to Civil War wives hoping for a loved-one's return.
Thanks to grants from the National Endowment for the Arts and Cal Humanities, the play has toured the nation for the past two years in a series of readings and performances. This month's performances, presented by Lexikat Artists in association with Chapman, are a run-up to the play's staging in May at the Kennedy Center. Benitz says it is a culmination of the grants' goal of sharing the story nationwide.
Ticket and theatre information

Kirk Douglas Theatre
9820 Washington Blvd., Culver City
Tickets available through Center Theatre Group
or at 1-213-972-4488
"When Andy Carroll and I started working together some seven years ago, neither of us would have assumed that years later we would be working with Annette Bening or Laura Dern (a cast member in last year's performance at the Kirk Douglas) or have the success we've had with the show," Benitz says. "This play really connects with the audience in profound ways, and so I suppose that is what this is all about – creating a meaningful conversation about this aspect of human interaction and hope that we might just affect a change down the road."
About the letters that started it all

In 1998, Carroll launched a national initiative to honor U.S. troops, veterans and their families by preserving their wartime letters. Since then Carroll has collected more than 100,000 previously unpublished letters (and now emails) from every conflict in American history. His efforts led to a national, all-volunteer initiative that works to find and preserve wartime correspondence.