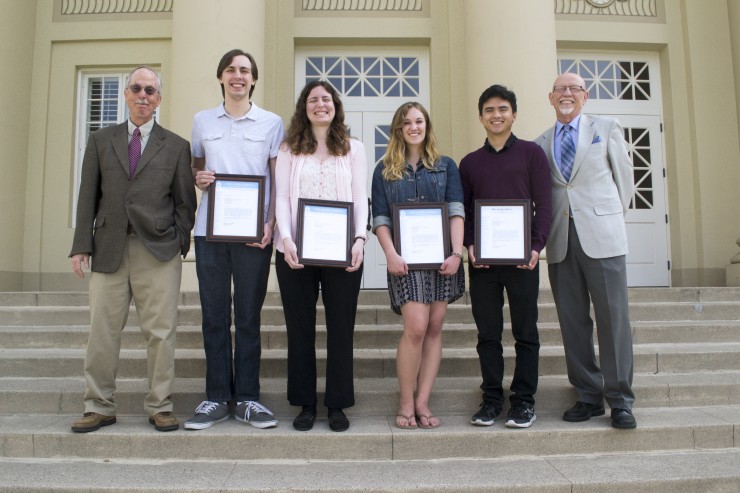 With articles on topics ranging from filmmaking in the deaf community to life in the aftermath of San Francisco's 1906 earthquake, Chapman University's online history journal Voces Novae has won the Gerald D. Nash Best Electronic Journal Prize for 2014
This is the fourth time in the past six years that the journal won the Nash Prize, one of the most prestigious awards given by Phi Alpha Theta, the National History Honors Society.
"Having our hard work recognized is a fantastic feeling. I'm so proud of all the writers and editors involved," said lead editor Emily Neis '14, now on staff in the acquisitions department at The Huntington Library, Art Collections, and Botanical Gardens.
The Nash Prize reflects the high caliber of work produced by students in
Department of History's senior seminars, says Lee Estes, Ph.D., associate professor and faculty adviser to Voces Novae. In those courses, students are required to write original and extensive theses based largely on primary documents. The product is highly competitive articles and highly skilled editors for the journal, Estes said.
"This is why our students have won so many local, regional and national prizes for their papers, including the four Nash awards," Estes said.
And in the case of the Nash, student editors go the extra distance, fine-tuning the journal
during the summer in advance of the July submission deadline. But senior editor Taylor Dipoto '15 would do it again.
"The hard work is completely worth it," Dipoto said. "I felt especially lucky to have had the chance to edit as a junior."
Awards aside, the task of preparing a paper for publication in Voces Novae was rewarding in itself, said David Wells '14.
"I received excellent feedback on how to tweak and refine my thesis for publication. I am very grateful to have been able to participate," Wells said.