When it comes to a solar-powered future, where better to build leadership than in the heart of Southern California?
"Abundant sunshine and an entrepreneurial culture make Orange County well-suited to become the sustainability capital of the world," says Fred Smoller, Ph.D., associate professor of political science at Chapman University.
Now Chapman students are contributing their energy and expertise toward realizing that vision. They're teaming up with colleagues at UC Irvine, Saddleback College and Irvine Valley College on a project to build a solar-powered house as an entry in the U.S. Department of Energy's Solar Decathlon 2015.
President Jim Doti called the collaboration an exceptional opportunity to help address climate change. "This truly is an historic moment," Doti said at the partnership's launch event in October. "Climate change is real. It's a challenge facing our generation and future generations, and when we can bring a collaborative team like this together, great things can happen. And it could be the model for how we tackle other problems that face our community, our nation and our planet."
The Team Orange County house — called Casa Del Sol — will join other entries from around the world at the Great Park in Irvine, where the Solar Decathlon will be held in October 2015. The biennial decathlon challenges collegiate teams to design, build and operate a solar-powered house that "best blends affordability, consumer appeal and design excellence with optimal energy production and maximum efficiency," according to the Department of Energy website.
The houses are intended to be replicable models. They are displayed together as a kind of energy village so that during the judging they can be toured by the public. Prior to settling in Irvine, the Solar Decathlon made its home on the National Mall in Washington, D.C., and Smoller played a key role in bringing it to Orange County. He helped convince Great Park officials that the wide-open areas of the former El Toro Marine Corps Air Base would be an ideal setting for the competition.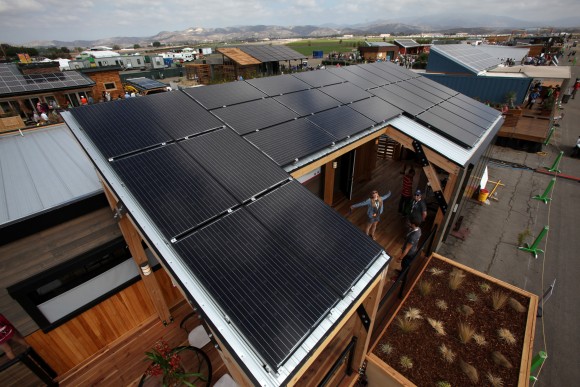 Team Orange County includes students representing a diversity of disciplines, from engineering to communications.
"We're all benefiting from this collaboration," says Lotus Thai '17, a double major in business and environmental science and policy who, along with her Chapman teammates, is helping to market the project. "We're not engineers," adds Clayton Heard '16, "but we can talk about the project and convey just how appealing it is, because we do understand the importance of sustainable practices. This is where environmental science meets econ and business. We can serve the role of liaison from the engineers to the general public."
Team members from across the Orange County campuses worked throughout last summer on preliminary plans for the house, drawing inspiration from the state flower, the California poppy. Like the poppy, the house's solar features open to absorb daytime energy, and close at night to maintain a comfortable living environment. Mario Maldonado '16 says that the spirit of the competition is reflected in a tagline developed by the team to use in marketing materials. He foresees the project "inspiring the next generation of innovators."
"People sometimes think that they can't make a difference," he says. "But this has a chance to inspire a sustainable outlook, and if that snowballs, more kids might feel like they can have an impact."
And wouldn't that be something to build on?