Learn your lines and show up on time. Get used to the nerves, because they don't go away. Don't gripe about an actor you dislike. And when you hit those career crossroads in life that pose a safe path in one direction and a bold move in the other – go bold.
"I'm in favor of jumping into things. I'm in favor of making leaps. And sometimes a leap is not a far leap, but it's the right one," veteran stage and screen actress Annette Bening
told Chapman University students gathered in Waltmar Theatre on Wednesday afternoon.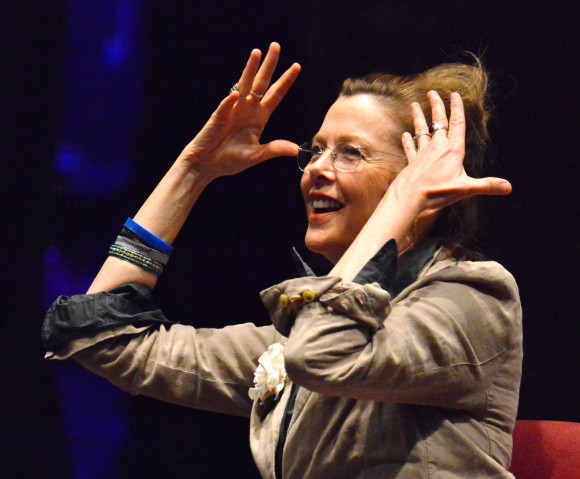 Lifetime Achievement
Bening was on campus in preparation for her appearance at American Celebration on Saturday, Nov. 1, where she will be recognized as the Lifetime Achievement in the Arts honoree. The award is given annually during the gala scholarship fundraiser and pays tribute to a leader in the arts industry.
But theatre and screen acting students enjoyed an intimate and down-to-earth master class with the Oscar-nominated actress, whose credits include American Beauty and The Kids Are All Right and most recently the critically acclaimed Ruth Draper's Monologues at the Geffen Playhouse.
For an hour and 20 minutes, Bening shared stories of success, disappointment, inspiration and embarrassment from her 28-year acting career. A theme throughout her wide-ranging talk and Q&A that followed was that actors must make themselves emotionally available to truly reach their audiences.
"It's that softness, that humanness, that when somebody watches us, they say 'Oh, that's me. That's me.' And that's what you want; you want to bring people into you. It's like when you're reading a book and there's a passage that tells a secret that you thought only you knew. 'Oh, I see, that's something I thought only I felt,' … And that's what we do," she said.
'Creativity is excess'
When asked about how she balances her work and personal life – Bening and her husband, actor Warren Beatty, have four children – she described how she tried to coordinate filming and stage productions around her children's lives, when possible. But, she admitted, most of the time it's "messy" and she's come to embrace that as a fact of the creative life.
"Creativity is about excess," she said. "You cannot casually do what we do. If you do, it's probably not very interesting."
And while she urged students to consider "making leaps," whether they're considering graduate school or a career decision, she acknowledged that those moments can be nerve-wracking. But get used to that, she said. Even success doesn't eliminate such dilemmas.
"It's not like there's a point in life where oh, the choices get really easy and you know where you're going. That's a big myth. That's a big myth!" she said, laughing. "There's only more as you get older. You may have had more life experience because you're an older person, but you're still facing all the same questions about life."
But from those decisions, "That is where you become who you are."