During a break in the action on a recent Tuesday night in an old Santa Ana furniture store that is home to OC Roller Girls, Linda Freedkin '18 is sweaty, breathless and eager to gulp some water.
No wonder. During the first half of this roller derby team practice, Freedkin – or Killin'da Track, as she's known in derby dialect – has been slammed by Payback, blocked by Maisie Maelstrom and rattled by a rather ominous character called T-DOGG. That's because Freedkin is a jammer, and everyone wants to put the kibosh on the jammer.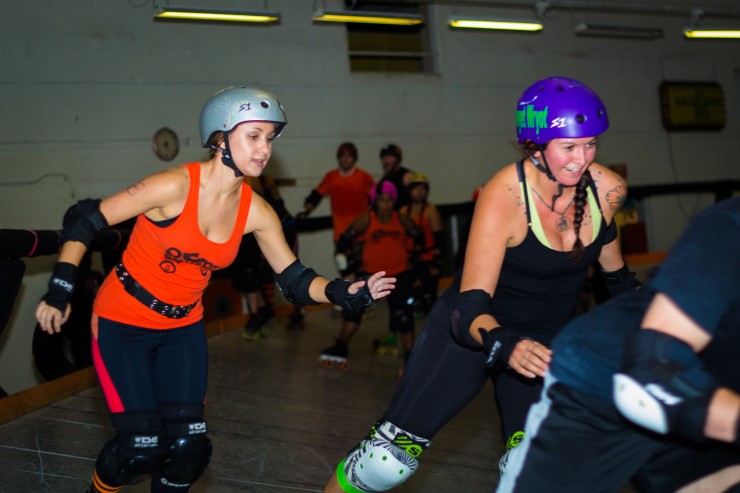 So how does it feel to be a rolling target?
"Good," Freedkin says. "My energy's up. I'm awake. I'm ready for scrimmage."
It's not the average hobby for a college freshman, admits Freedkin, a Chapman University biological sciences major in the Schmid College of Science and Technology. But she can't imagine life without it. She started playing with OC Roller Girls while in high school and recently moved up to Pulp Friction, one of the league's adult teams.
Yes, she was inspired to try the sport by the 2009 movie Whip It, starring Ellen Page. But she had a certain other motivation, too.
"I wanted to play a sport, but I didn't really like running," she says with a smile.
Now she spends two evenings a week rocketing around a track, decked out in a silver helmet and skates with lime green wheels and bright blue toes. As a jammer, she's both target and torpedo. In one moment she's blasting through the pack. In the next she's like the fox dashing away from the hounds.
It's a mash-up of kinetic, non-stop strategizing that keeps her on those bright blue toes, sometimes literally.
"There's a lot going on at once. It's fast-paced, it takes a lot of concentration. You have to play offense and defense at the same time, so that's pretty unusual in the sports world," she says. "It's a big confidence booster."
That kind of joy is typical in the world of women's roller derby. It's a fast-growing sport that looks nothing like those old televised derby bouts highlighted by staged brawls and assorted histrionics, rather that athleticism and true competition. Today's players embrace the tradition of gnarly names and strike killer poses for fun and a bit of publicity hype to bring people out to the games. But the real attitude underlying the roller derby community is camaraderie, says Freedkin, who grew up in Irvine, Calif.
"There's no negativity. You're able to hang out with each other at the after party or on the weekends. Everyone just wants to help everyone get better," Freedkin said.
Friends outside roller derby are still surprised by her sport of choice.
"People say, 'Oh my gosh, do you elbow people in the face?' No, the rules have changed. You can't do that anymore," she says.
Still, she has broken an ankle, spent time in a knee brace and has so many bruises she avoids wearing shorts. But the welcoming environment, friendships and competition are quite simply "inspiring," she says.
So even though she has a little fine-tuning left to do on a lab report for the next day's chemistry class, Freedkin straps on her silver helmet and rolls back to the track. For the moment, there's just no place else she'd rather be.
Pulp Friction's next home bout will be Saturday, Nov. 8, at 6 p.m. and will be played on a flat track at the The Rinks at 5555 McFadden Ave. in Huntington Beach. Advance tickets may be purchased online.
(Top featured image/Emily Senes '16)