For Chapman University biological science major Coley Beck '15, the best part about Friday's 6th Annual Day of Service is that the opportunity allowed her to work easily in the community.
"I like the diversity of work they have," Beck said.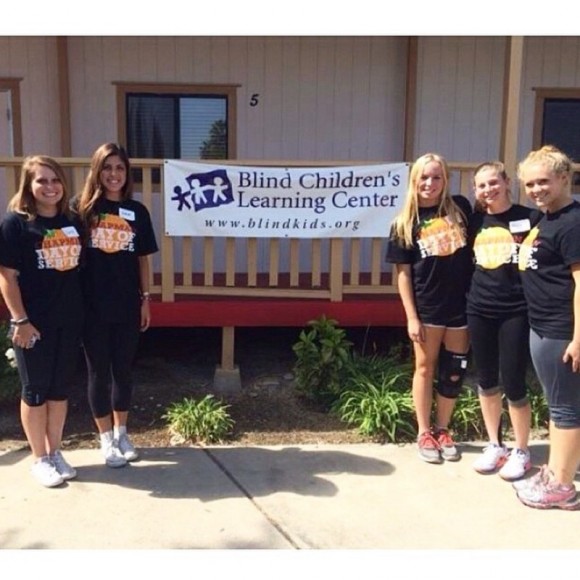 Held in conjunction with the Chapman Family and Homecoming Celebration this past weekend, the Day of Service event attracted nearly 200 students and visiting family members, who rolled up their sleeves and pitched in at several local community agencies.
They even had the option to choose what organization to assist. Throughout the day, students worked 2-1/2-hour shifts, and at the end of their shifts, followed by a half-hour reflective discussion on the nature of their work and their role in the community. Indeed, there was much to reflect on, as students had plenty of work to do. They reorganized the exhibits at Pretend City Children's Museum, performed numerous tasks at Providence Speech and Hearing Center, cleaned up open space environments for Santa Ana Parks and Recreation and the California Coastal Commission, sorted donations at both Casa Teresa and Working Wardrobes and assisted children at the Blind Children's Learning Center.
For Jhosselyn Tostado, '16, a Business Administration major and one of the lead coordinators of Chapman Day of Service, the best part of the entire process was coordinating with all the local non-profits.
"The ones that did want to get involved with Chapman are passionate about what they do. They are so happy to have Chapman students come and help." Tostado said.
Chapman Day of Service is the start and a means to a greater end, said Justin Koppelman, assistant director of Student Civic Engagement and a Chapman University alumnus.
"If we make some really strong connections with people in the community, we hope that it will be an impetus for civic engagement locally, nationally and globally," he said.
Building the day into the homecoming weekend allowed students, alumni and families to sign up together, which reinforces a value of service across all members of the Chapman family, Koppelman said.
Tostado echoed that sentiment.
"There's so much in our community to do and so many needs to be addressed," she said. "We have the willpower and capability to do something about it and help."