For starters, Justin Simien '05 wants his breakthrough feature film to make you laugh. But he also hopes to start a serious conversation.
---
Justin Simien '05 has lots of ideas. Some are for screenplays, others for TV shows, Web series and books – so many ideas that he toggles between them in his head and in his professional life.
First things first.
The desire to say something new, clever and revealing about race and identity in America motivated him to write and direct
Dear White People
, an indie satire that he hopes will help elevate the tenor of public conversation. One thing's for sure; the film has changed Simien's life.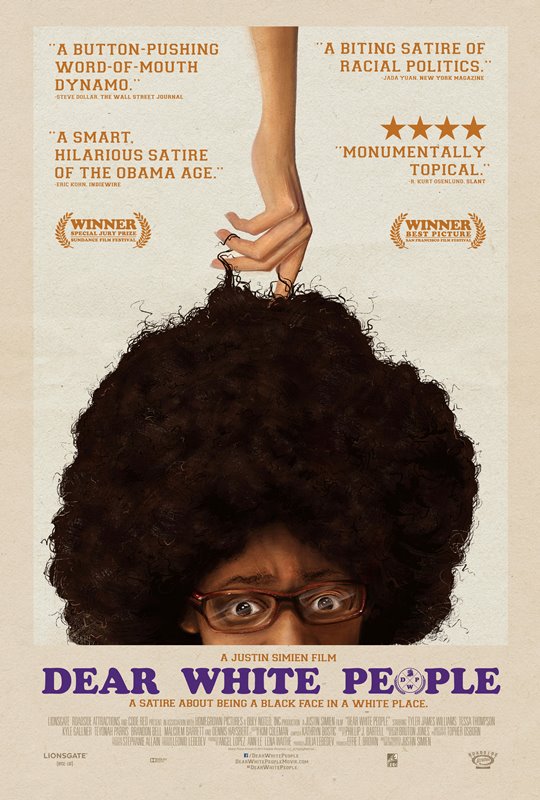 The film opened Oct. 17 in selected cities, but its buzz is more widespread. Simien has been digesting accolades like "fresh," "hilarious" and "articulate" ever since
Dear White People
made him one of
Variety
's 10 Directors to Watch and earned him the Sundance Film Festival's Special Jury Prize for Breakthrough Talent earlier this year.
In September, as Simien prepped for his first nerve-jangling experience with a Hollywood release, he noted that there was a time when he would have been satisfied if the critical praise for his film had stopped at "funny." No more.
The first iteration of the movie, then titled
2 Percent
, was a straightforward comedy about what it's like to be a black face in a largely white place. In part it was drawn from his Chapman and Orange County experiences but also from those working in film industry marketing.
This was after Barack Obama had become president and there was talk of a post-racial America. At the same time, the "birthers" were active, and then Trayvon Martin was shot.
"A lot was happening in the world," Simien says. "It wasn't good enough just to be funny. I wanted to say something."
Bridging divides
He set his story at a university because he admired the way films such as
Fame
and
Election
used school settings as microcosms. Research into real-life racial incidents on college campuses prompted him to create his own pivotal plot point of white students holding an African American-themed party, complete with some arriving in black face.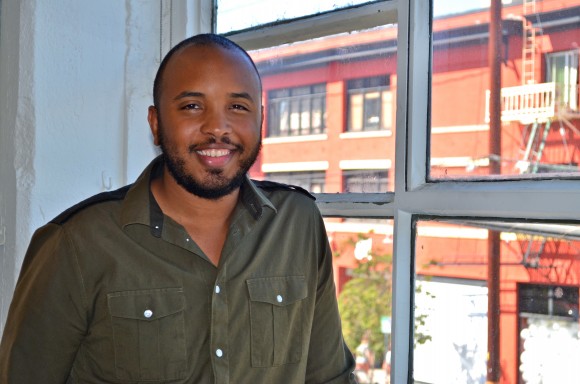 "The more egregious things that happen in the film would never would happen at Chapman; that just isn't the school's vibe," Simien says. "But some of the things did happen (at other schools)."
Now, as the racial unrest in Ferguson, Mo., lingers like silt that has yet to settle, Simien hopes his film will slyly broaden thinking and prompt important conversations that bridge divides.
"We kind of move into post-racial mode the moment we sweep past a tragedy," he says. "One of the challenges of being black and, some would say, successful – having ambition – is that as a person of color you have a unique instinct for racism. But you somehow feel that you're not allowed to talk about it, because you're doing pretty OK. You're not being run out of town by a lynch mob."
Race should be talked about, and not just within separate communities, Simien adds.
"I hope this film will be a force in the culture that keeps bursting the post-racial bubble," he says.
Shaped by Chapman
While at Chapman, Simien engaged in many conversations that provoked critical thinking, he notes.
"I think the best thing about Chapman is that there's a diversity of ideas," he says. "I got a lot of film-specific training, but there were other classes that really opened my mind."
One delved into fear and evil, and was taught by
Rafael Luevano
, Ph.D., associate professor of religious studies.
"We read all kinds of articles and books, and we watched a couple of Coen brothers movies, but really it's a class that forced me to write at a level I wasn't accustomed to," says Simien. "Father Rafael taught me to analyze things critically. That class really sticks with me. I go out into the world and look for stories that interest me, and that class provides context."
Meanwhile, his
Dodge College
courses give him a foundational skill set for his storytelling.
"I like that my experience wasn't just theoretical," he says. "I got to make quirky, bizarre little films – ones I would never show anyone now – and screen them and get feedback. It forced me onto movie sets, and it forced me out of my comfort zone."
Even after he landed a good marketing job in the film industry, Simien always found time to keep writing narrative scripts, develop Web series and edit friends' short films.
"I had a craving to do more, and that was fostered at Chapman," he says.
So he honed his sprawling
Nashville
-esque, multi-protagonist story until he had something he wanted to workshop. He brought in actors just to hear
Dear White People
spoken out loud.
"People were really moved by it," he remembers. "The feeling was palpable."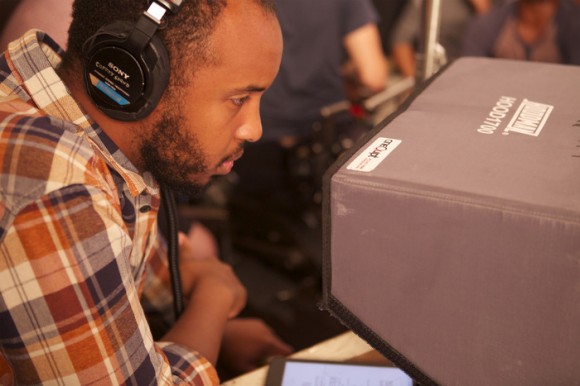 Next he took his 2011 tax refund and shot a concept trailer, which he posted to YouTube. About 100,000 people watched it, totally exceeding his expectations. Then came a crowdfunding campaign that reached a million views, raised $46,000 and landed Simien on CNN. Somewhere in there was also a "
Dear White People
" Twitter campaign to test the jokes of the character Sam White, who hosts a radio show called
Dear White People
that playfully educates a campus-wide audience about the do's and don'ts of post-racial friend-making.
The $46,000 paid for line producers and a casting director, as well as a tour of studios and meetings with independent financiers. Enough money materialized to begin production.
Typically a movie like Simien's – one heavy on art design – needs months of preparation. He had two weeks of prep and 20 days to shoot.
Ready, set, roll
"Luckily I had been preparing for that day for six or seven years," he says. "Still, it was a tough shoot. That's when I knew that filmmaking is really the only thing I want to do. Because even with all the challenges, I loved it. I couldn't wait to get back on the set to do it again."
A journey full of lessons taught one anew.
"They tell you in film school that you have to be tenacious and never give up – they tell you that and they tell you that. But it didn't become something I knew in my bones until this project," Simien says.
Now the film is out in the world. The writing, cajoling, honing, pitching and shooting are behind him, as are the negotiations, altitude sickness and general "freaking out" of the Sundance festival experience.
"I don't have just one thing to say"
While he enjoys promoting
Dear White People
, he's also ready to move on to new projects, including shooting a TV pilot of the Web series
Twenties
, written by Lena Waithe, Simien's best friend and a producer of
Dear White People
. The series chronicles the lives of three African American women in L.A., but at its heart it's about identity, he notes.
"I'm in love with the idea behind the show," Simien says.
Justin Simien has lots of ideas. And not all of them involve him becoming the voice of a race or of a generation.
"I do see myself as a storyteller first," he says. "I don't just have one thing to say. I'm also very cognizant that in this industry it's very easy to get put in a box. I have no interest in staying in that box.
"I'm very proud and honored to be asked to talk about this film and to be opening people up to talking about things they haven't talked about before. But I'm also eager to get on to the next thing. We'll see how I do managing that."