This story appeared in the fall 2012 issue of
Chapman Magazine.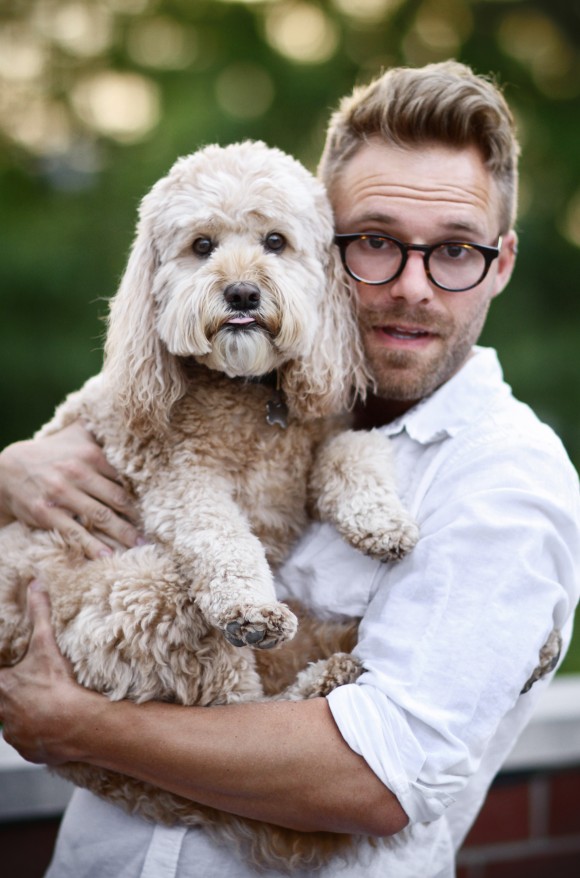 When the phone rings at 3 a.m., it's never good news. Or so Seth Casteel '03 thought before that bleary-eyed morning in February when his whole world started clicking at a hundred frames per second. The first call was from a blogger somewhere in the U.K. — or was it a London newspaper? It doesn't really matter because within an hour there were a dozen more just like it, mostly from Europe and Asia, asking Casteel how they could get access to his underwater dog photos.
"All I remember saying was 'I don't understand.' It was all very confusing," recalls Casteel, who has a BFA in film and television from Chapman University.
By the light of the next day, the focus started to sharpen. Seeking new paths for his pet photography business, he had invested in a waterproof housing for his camera and posted a few underwater dog photos to his website —
www.littlefriendsphoto.com
— and to his Facebook page.
He'd gotten the equipment, BTW, even though the $4,000 cost was more than prudence and his friends said he should be spending.
"My friends thought I was an idiot," Casteel said.
It turns out that someone — Casteel still doesn't know who — thought enough of those quirky, wild-eyed photos to repost them to the social news website Reddit. In no time the images made their way to Pinterest and then across more walls and into more tweets than anyone could count. In a matter of hours, the viral momentum was so strong that there was simply no stopping it — as if anyone wanted to try.
The calls and emails just kept coming. At one time Casteel was talking with Good Morning America while CNN World Report was on the other line. His modest website, which usually generated about 200 unique visits a day, crashed under the weight of hundreds of thousands of hits. "Within a few days, I had 10,000 emails," he said.
Suddenly the guy who'd been turned down by the stock-photo agencies Corbis and Getty Images because his work was "too niche-oriented" had 10 of the nation's biggest publishing houses bidding for the rights to a book. "We turned down Random House," said Casteel, his voice rising with incredulity, "and went with Little Brown because they had the best plan for the book."
It all started with a few photos of stray cats on the studio lot where Casteel worked designing print advertising campaigns for Disney. Those volunteer efforts in 2007 helped the cats find homes and Casteel launch a new career.
"I've always loved animals, and I've always liked making something from nothing," he said. "I'd taken a couple of photography courses at Chapman and really got a lot out of them. It was all a new challenge."
He started doing freelance work for publishing companies, with his pet photos ending up in calendars and books as well as on the cover of
Tails
magazine. He started getting commission shoots, including one of a Cavalier King Charles Spaniel that lived right down the street from Chapman. The dog kept jumping into the family's pool, and Casteel quickly realized that to capture his personality he'd need to jump in, too.
His early pool work yielded some expressive results, but looking back Casteel says he was only scratching the surface.
"I was still figuring out how to work with dogs, and working with them in water affects the dynamic," he said. "After shoots with 250 dogs, I'm still working on it. The whole thing is so unpredictable."
A key to Casteel's success is that he gains the dogs' trust on land before shifting to the water. That bond helps him coax out the wildly emotive reactions that connect with viewers. Plus, it doesn't hurt that he's really good at holding his breath.
Casteel says his "amazing experience" at Chapman helped prepare him for the challenges he has faced. He particularly credits an entertainment marketing course taught by
Professor Cory O'Connor
with giving him the confidence to launch his business in the first place. For instance, he knew to have his copyright protections in place so he could monetize attention that came his way.
"We made a lot of money in a very short time," he said.
Now his latest release,
Underwater Puppies
, is getting a splashy launch, and Casteel has other ideas bubbling to the surface. His phone just keeps ringing — and that, he notes, is still a good problem to have, no matter the hour. "This project is allowing me to have the career I want," he said. "I'd be happy if I could do this job forever."