The 30-year-old Drug Abuse Resistance Education, or D.A.R.E., continues to advance the overhaul of its program, thanks to the contributions of a Chapman University researcher.
Building off the proven track record of the new lessons she developed to boost middle school youths' abilities to avoid drugs, gangs and violence, Michelle Miller-Day, Ph.D., helped rewrite the D.A.R.E. curriculum for elementary school students. The first evaluations of the elementary program are extremely promising, says Miller-Day, a professor in the Department of Communication Studies.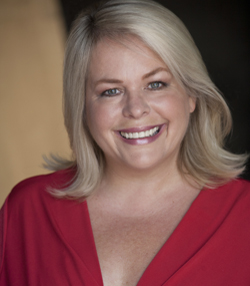 Elementary school students who received the D.A.R.E. lessons showed significant improvement compared with those who didn't in the area of responsible decision-making. That skill is a major bridge to the middle school program and strongly associated with peer-pressure resistance, she says.
"It's the skill that I'm most excited about. You want to keep that up and reduce susceptibility to peer pressure," she says.
Students also reported greater understanding of abstract concepts like empathy, communication and body language, foundational tools to managing stressful peer-interactions, she says.
The relatively small-scale pilot study – only 943 sixth graders in two Orange County, Calif., school districts were part of the study – lays the groundwork for a national evaluation of the elementary program. The study was conducted by Miller-Day, L. Edward Day, Ph.D., director of the Earl Babbie Research Center, and a team of graduate and undergraduate students from the center. The findings will be presented at the November meeting of European Society for Prevention Research.
The D.A.R.E. elementary program developed by Miller-Day is based largely on one she helped write several years ago in partnership with colleagues at Penn State University. Called keepin' it REAL, the guiding principle behind it is that interactive activities work better than lecture-style drug education.
"It's not an antidrug program," Miller-Day recently told Scientific American, but rather a skills-based plan for dealing with real-life challenges.
For example, it uses what Miller-Day describes as "gentle starters." At the heart of it are comic books and a series of videos following the same fictional characters as they navigate a variety of moderate dilemmas – reacting to a friend who wants to blow off homework and go to the mall, for example. Students practice, role play and write about strategies that play off the acronym REAL– refuse, explain, avoid, leave – through a 10-week series of lessons.
Although relatively new to D.A.R.E., keepin' it REAL has been used by schools for more than 20 years. It's been endorsed by the National Registry of Evidence-Based Programs and Practices, named a Model Program by the Center for Substance Abuse Programs (CSAP) and honored by the federal Substance Abuse and Mental Health Services Administration.
Most recently the program was adapted for Nicaraguan youth in partnership with a local organization and the U.S. Embassy's International Narcotics and Law Enforcement Affairs program.