You've probably walked by the construction site of the
Marybelle and Sebastian P. Musco Center for the Arts
many times, and might have tried to peer through the fence at what's going on and how the building is taking shape. Of course now the walls of the Julianne Argyros Concert Hall, the main focus of the building's interior, have risen above the fences, so it's easy to see that SOMETHING has been happening — and fairly quickly, too!

But Construction Spy recently had the opportunity to take a hard-hat tour through the construction site of the $78 million arts temple so we could give the Chapman community a real inside look at progress on the Musco Center. Here are some photos and comments to bring you up to speed!

Many thanks to Kris Olsen, vice president of campus planning and operations; Tyson Neall, project manager with Abacus Project Management, which oversees construction on behalf of Chapman; and Archie Smith, superintendent for McCarthy, the general contractors, for their kind and informative guidance. (And no, you're not getting onto the site without one or more of these guys, plus a hard hat, safety vest and safety glasses. And tours are really not given, anyway, except on the rarest of occasions, so enjoy this "virtual visit"…and join me in dreaming of the beautiful Musco Center's eventual opening!)




First, here's what the Julianne Argyros Orchestra Hall looked like during the recent tour…and remember, this is just the inside heart of the building. The architectural shell and outer walls — which will enclose the outer lobby, hallways, offices, etc. — are still to come. So this will eventually be surrounded by the "skin" of the real outer building.  The park-like (it may not look park-like now, but eventually!) space in which it sits is the Bette and Wylie Aitken Arts Plaza, which will slope gently downward from University Drive to the Musco Center entrance. Because of height regulations in the City of Orange, the Musco Center is built partially underground — at points, at least 40 feet under ground level (because of the need for tall flyspace backstage). Our acoustic experts have said that the fact the building is partially underground may actually give it exceptional acoustics.

The Julianne Argyros Orchestra Hall, which will boast 1,100 seats, will be fully able to accommodate large orchestras, ballets and modern dance and theatre productions, as well as smaller ensembles and soloists, lectures and more. You can see in some of these photos that the rows for the seating are taking shape, and the stage and the orchestra pit can be seen.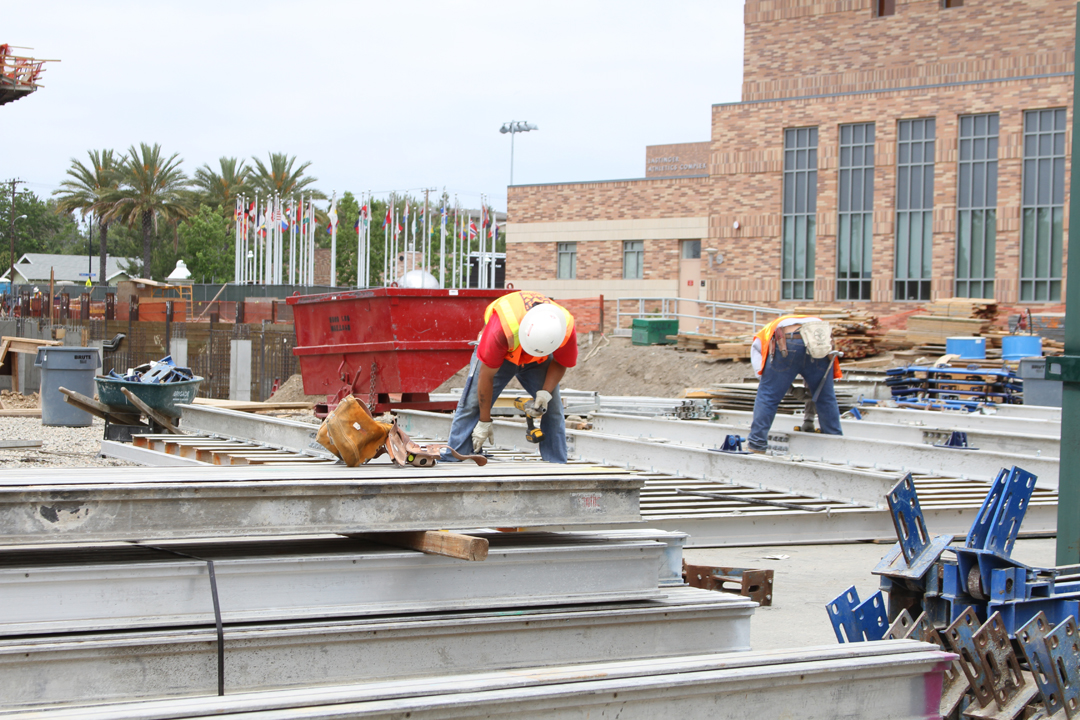 Musco Center will be home to a broad spectrum of performances by students and faculty from Chapman's esteemed
Hall-Musco Conservatory of Music
and
Departments of Theatre and Dance
, in addition to regional and national touring ensembles. The Center will let our students shine on a world-class stage—no doubt lighting up the lives of both performers and audience members for generations to come.

The Musco Center for the Arts is scheduled to have a "soft opening" in late 2015. That means our own Chapman ensembles and soloists will begin performing for audiences inside it, but no media will be invited, no reviews will be written, and the hall will not be considered formally open yet. The reason is that it usually takes quite some time — often several months — to acoustically "tune" a concert hall.

Chapman has engaged perhaps the top acoustician in the world, Yasuhisa Toyota of Los Angeles and Tokyo, who has "tuned" many of the great halls on the planet, from the Sydney Opera House to L.A.'s Walt Disney Concert Hall to Tokyo's Suntory Hall and Copenhagen's Danish Radio Concert Hall. In a painstaking process that could go on well into spring of 2016, Toyota — who will have worked with the architects and contractors beforehand — will assess the hall's sound during performances by varied ensembles, both with and without audiences (because the presence of a crowd affects acoustics), plotting its direction and deflections off walls, pillars and other surfaces. He "tunes" the hall by adjusting what can be adjusted, adding louvers, shells and other elements to finely orchestrate and finesse the sound quality.

After the hall is tuned to the exacting satisfaction of Toyota and Dean William Hall, who has overseen everything as it's gone along, the Musco Center will celebrate its grand opening in 2016. So even though the gray concrete interior of Julianne Argyros Hall has seemed to rise so quickly, there is still a long way to go! It will all be worth it when this lovely jewel of a building graces our campus and opens its doors to eager arts lovers. Like you, we can't wait!


 (See more photos from our construction site tour below.)