When she was 3 years old Debi Anderson was diagnosed as being communicatively handicapped. But as she sat in Smith Hall waiting to have her hearing tested by graduate students in Chapman University's
Communication Sciences and Disorders
(CSD) program, Anderson had no trouble conveying the joy she experiences as a Special Olympics athlete.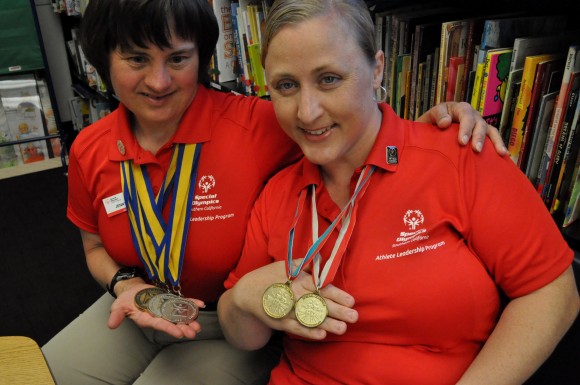 "It's the most fun I've ever had," says Anderson, a gold-medal-winning runner.

But athletes aren't the only ones soaking up the fun. Chapman graduate students studying to be speech pathologists have been going to the regional games for the past five years, joining an army of healthcare volunteers for Healthy Athletes, a branch of Special Olympics that provides competitors with health screenings and wellness education.

"It's kind of a win-win for us to be able to do this. It's great to be at the event and volunteer, but we get to train, too," says Jenna Walton, a first-year CSD student.
Welcoming the world

Next summer the excitement will get even bigger when the
Special Olympics World Summer Games
come to Los Angeles. Some 60,000 athletes from 177 countries are expected at the world games in 2015. That's a lot of ears, and the Chapman crew will be there to work on the Healthy Hearing team within Healthy Athletes, says
Judith Montgomery
, Ph.D., professor and program director of the CSD program in the College of Educational Studies.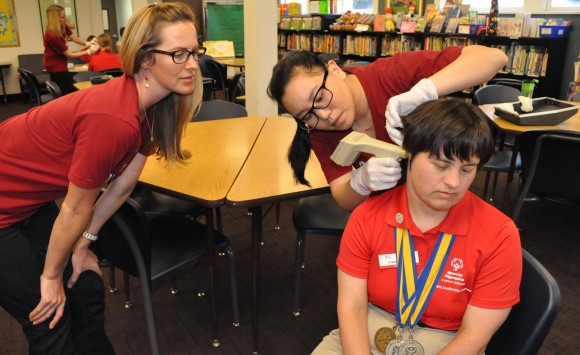 "We'll have all of my students active in that and a lot of alums. They love it and they recognize what a difference it makes in athletes' lives," says Montgomery, who's been involved with Special Olympics as a health and hearing specialist since 1995.

Volunteerism has been a strong tradition in the Special Olympics movement since its founding by
Eunice Kennedy Shriver
. Athletes aren't the only winners, though. Helping out at the summer and winter regional events opens students' eyes to the unique needs of the competitors, Montgomery says. Hearing loss appears in about 3 percent of the regular population, compared to 15 percent among the intellectually handicapped, she says. The majority can be helped with hearing aids, allergy treatments or ear hygiene instruction.
'I can hear people clapping.'

Montgomery delights in recounting success stories of athletes who say that thanks to the screenings and follow up programs they can finally hear coaches' instructions, starting signals and applauding fans.

"One man told us 'I can hear people clapping.' He'd been competing all these years and he didn't know why they were doing this," she said, clapping her hands.

The students' hands-on coursework and training prepares them well to serve at the events. But a few extra practice sessions are scheduled, too. So, local athletes visit campus and students gain extra clinical experience.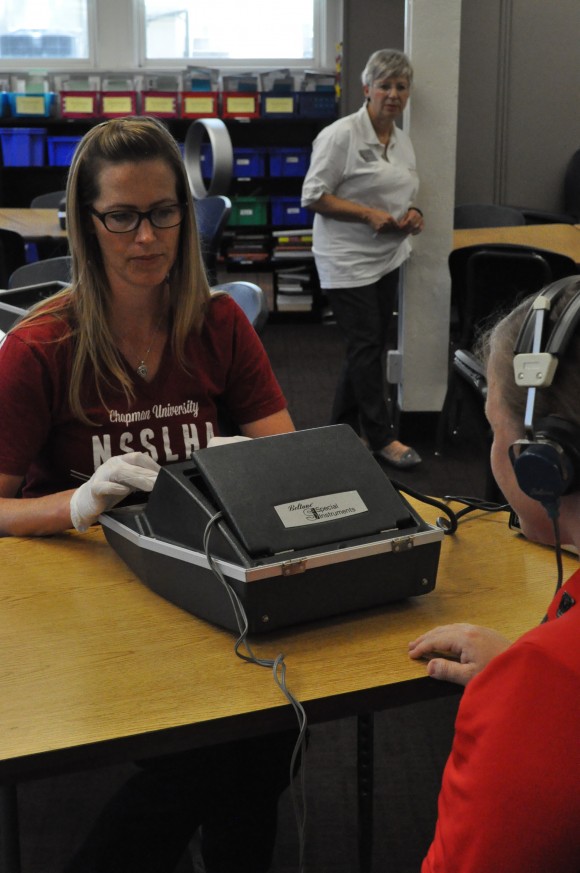 During one such session on a recent afternoon, Anderson and her friend Jenny Skinner, a medal-winning Special Olympics golfer and swimmer, went through the paces on CSD's state-of-the-art equipment operated by students. No strangers to Chapman – Montgomery's students also coach the Toastmaster's Gavel Club, where Anderson and Skinner hone their speaking skills – were delighted to be of help. Both are trained Special Olympics Global Messengers and proudly wore a handful of their medals, eager to share how the games change their lives.

"Without Special Olympics being part of my life I would probably be at home bored out of my mind," Anderson says with her ever-ready smile.

Skinner relishes the camaraderie.

"It's so much fun to come out and see all the terrific people outside, making friends. It's fun to be around talking to people and I like to see new athletes do the same. I like to see what sports they can do," she says. At the games, she adds, "I feel, actually, great."

It sounds like next summer can't come soon enough.
Want to lend a hand in 2015?


Chapman University will be one of the Host Towns, or residential villages, for the 2015 Special Olympics World Games. Service clubs and community groups interested in helping with entertainment activities for the athletes while they're at Chapman may email Montgomery at montgome@chapman.edu.