Chapman University's elite Wang-Fradkin Professorships were awarded to professors from Schmid College of Science and Technology and Wilkinson College of Humanities and Science at the 19th Annual Chapman University Faculty Honors Convocation, held Friday in the George H.W. Bush Conference Center.
Receiving the Senior Wang-Fradkin Professorship was Christopher Kim, Ph.D., associate professor in the School of Earth and Environmental Sciences. Kim's work focuses on
environmental problems involving metal contamination in natural settings.
The Junior Wang-Fradkin Professorship went to Lia Halloran, assistant professor in the Department of Art. Halloran is a visual artist.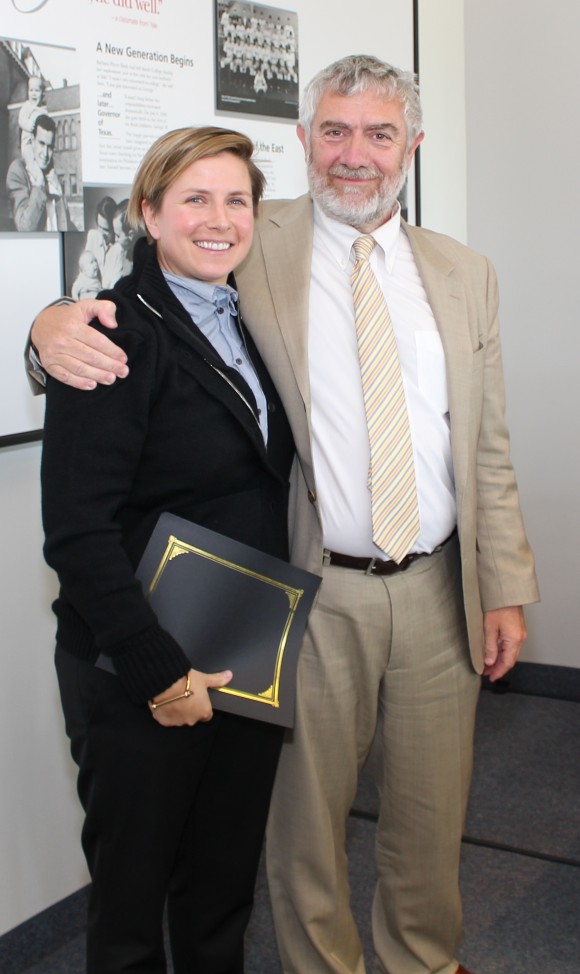 Halloran's work often makes use of scientific concepts as a starting point and explores how perception, time and scale inform the human desire to understand the world.
The Wang-Fradkin Professorships are two-year monetary awards to further teaching and scholarship. They were founded in memory of Hua-Cheng Wang, professor of political science, diplomat and expert on international law; and Cheng-Mei Fradkin, distinguished teacher, scholar and administrator.
Other awards presented Friday included:
Valerie Scudder Awards:
Marilyn J. Harran, Ph.D., professor, departments of Religious Studies and History
Donald Kochan, professor, Dale E. Fowler School of Law
Michael E. Nehring, professor, Department of Theatre
Anuradha Prakash, Ph.D., professor, Food Science and Nutrition
Outstanding Teaching Professor:
Roxanne Greitz Miller, Ed.D., associate professor, College of Educational Studies
Pedagogical Innovation:
Julye Bidmead, Ph.D., assistant professor, Department of Religious Studies
Curriculum Innovation in Sustainability Education:                         
Fredric T. Smoller, Ph.D., associate professor, Department of Political Science
Excellence in Service:
Drew Moshier, Ph.D., professor, School of Computational Science
Jan Osborn, Ph.D., assistant professor, Department of English
Excellence in Research:
Michelle Cleary, Ph.D., associate professor, College of Educational Studies
John Compton, associate professor, Department of Political Science
Peter Jipsen, Ph.D., professor, Department of Mathematics
Excellence in Teaching:
Matthew Gartner, Ph.D., instructor, School of Earth and Environmental Sciences
Veston Rowe, associate professor, Dodge College of Film and Media Arts
Melissa Rowland-Goldsmith, assistant professor, Crean College of Health and Life Sciences