Chapman research explores the dynamics linking major storms in the desert.
Somewhere between Tucson and Phoenix, Krista Rasmussen '15 saw Armageddon in the rearview mirror. A towering dust cloud swallowed more and more of the horizon as it swept toward the car she was riding in with her mom. Daughter and mother quickly realized they weren't going to outrun it, so they pulled over, closed the air vents and waited.
In one gritty, swirling moment, midday turned to dusk.
"There's a feeling of helplessness as nighttime encompasses you," said Rasmussen, a native of Arizona, where massive dust storms known as haboobs can sometimes block out the sun. "It really is apocalyptic — very scary."
Memories of the dust storm returned to Rasmussen during Professor Hesham El-Askary's environmental science class, "Global Hazards and Climate Change," at Chapman University. El-Askary, Ph.D., spoke of his own research into extreme natural events in the atmosphere and hydrosphere, and then he invited students to help develop specialized research projects. Rasmussen jumped at the chance.
As a double major in Spanish and integrated educational studies, Rasmussen plans to pursue a career in teaching, but El-Askary's class also kindled her interest in scientific research. The truth is, she has long sought ways to combine teaching and science.
Even as a child, Rasmussen punctuated family outings by identifying the birdcalls she heard. More recently, she went on a hiking date and got "kind of weird" looks when she started naming off the different types of cactus along the trail. She shrugged. "It's just something I picked up."
Together, Rasmussen and El-Askary crafted a research project that investigated the connection between Arizona's major dust events and the monsoonal rains that precede and follow them.
Such research may someday lead to better weather forecasting as well as a deeper understanding of how climate change and resulting patterns of extreme weather might impact entire regions.
"There was research on haboobs and precipitation, because it's known that monsoonal thunderstorms cause haboobs to occur," Rasmussen said. "But what hadn't been looked at was how a haboob affects a monsoon. That's what we wanted to explore."
It's a dynamic relationship born of cloud condensation nuclei 10,000 feet above the earth, but Rasmussen's first stop was quite terrestrial — the computer lab at Chapman. There she spent hours downloading 10 years of satellite data covering five locations in Arizona.
She quickly realized that her path to discovery ran through days of tedium. But at the same time she appreciated having access to the tools and instruction she needed to succeed.
"Dr. El-Askary led me down the path, but he also let me own my research," she said. "I'm so happy that he gave me that freedom and independence."
With El-Askary as Rasmussen's faculty mentor, her project earned a spot in the Chapman Summer Undergraduate Research Fellowship (SURF) program. Rasmussen spent six to eight hours a day in the computer lab cross-correlating and decomposing reams of NASA remote-sensing satellite information, gathering data on aerosol dust particles and charting them against the progression of thunderstorms.
Then she cross-referenced the satellite data with media reports for the same time periods to "tell the narrative of the data," she said.
In the beginning, El-Askary and Rasmussen hypothesized that as the particles got bigger high above the earth, the intensity of the storms that followed would increase. And that's exactly what they discovered.
"We found there was a two-month lag; it takes that long for the dust to absorb the moisture and affect the thunderstorms," Rasmussen said.
"Aerosol cloud interaction is challenging to understand," El-Askary added. "But in some zones, we were able to find a huge correlation (between dust particles and storm intensity)."
It was fascinating to analyze the data and then from the findings put together a story she could share, Rasmussen said.
"When you can actually understand something at a microphysical level, it makes all the difference," she said. "The reason (haboobs and thunderstorms) impact each other is because the dust is in the atmosphere for two months afterwards. It's exciting not only to grasp that concept but to be among the first people to realize it in a specific location."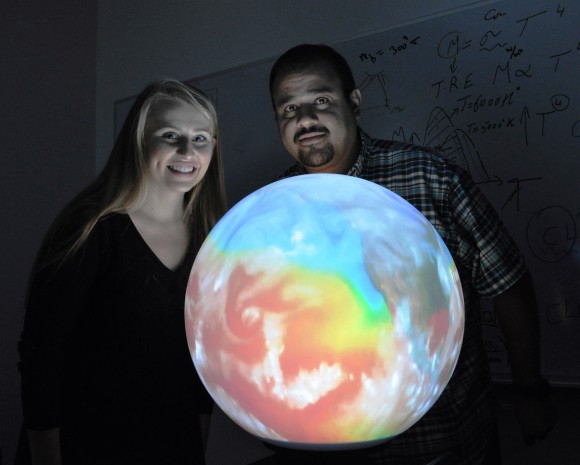 Such research may someday lead to better weather forecasting as well as a deeper understanding of how climate change and resulting patterns of extreme weather might impact entire regions, El-Askary said.
"We're not able to predict now, and that won't happen overnight," he noted. "We can't go there without a lot more data, and the complexity of the problems is on the rise. But we are witnessing a correlation in two subsystems."
Now that the research part of the project is completed, El-Askary and Rasmussen are working on a paper they anticipate publishing in an academic journal. What's more, Rasmussen has been accepted to present their findings at a European Geosciences Union conference in Vienna this spring, when she'll also be studying at the University of Seville in Spain.
"That will be amazing," Rasmussen said.
Teaching remains her long-term goal, but science is definitely in the picture.
"Before this project, I wasn't thinking about a career in research, but I do feel that would be possible now," she said. "My Chapman experience has been a steppingstone to so many opportunities."