Update: Since this story was posted, Dear White People, the debut feature film from Chapman University alumnus Justin Simien, has won the Sundance Festival's U.S. Dramatic Special Jury Award for Breakthrough Talent. Simien discusses reaction to his film in a recent Rolling Stone interview.
First things first. Justin Simien '05 says the big plot point in Dear White People, an indie film that has landed a spot in the 2014 Sundance Film Festival's U.S. Dramatic Competition, is not based on anything that happened to him at Chapman University.
That's a relief. Because Simien's witty satire involves a fictional campus running amok in the aftermath of an African American themed party thrown by white students.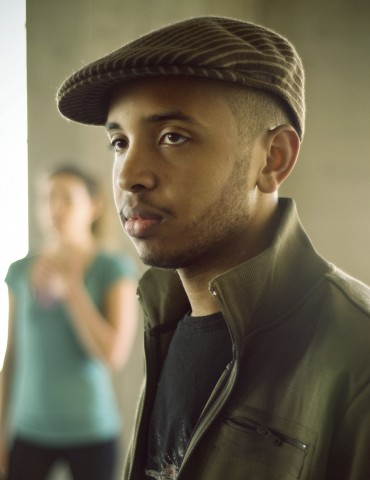 "The script is much more fictionalized," says Simien, who turned heads with a $41,000 Indiegogo crowdfunding campaign to get the movie made and was just named to Variety's annual "10 People to Watch" list.
But many of Simien's other Chapman memories, from an extraordinary religious studies class to long hours in the editing labs – and yes, his daily life as "being one of the few black kids" – did help shape a movie that is earning a heady amount of Sundance buzz.
"The film school is one of the best in the country," and he's asked about it everywhere he goes, Simien says. But speaking by phone this week as he was gearing up for Sundance's Thursday opening, the Houston native reflected on philosophy and religious studies courses he took at Chapman. One particular standout was "Fear and Evil in Film and Fiction," taught by Associate Professor Rafael Luevano, Ph.D.
"It just really sort of blew my mind. What the class was about was a commentary on the spirituality process throughout cinema," he says.
Although satire, Simien hopes his film helps advance that kind of scholarly conversation about race issues in America and provides a smart look at contemporary African American life. It takes its title from his own witty Twitter handle @DearWhitePeople. In other words, no rotund man in a dress, no slave story.
"It's just an homage to the kind of films I love … Do the Right Thing and Hollywood Shuffle. Those movies that have an art-house sensibility and say something about the black experience," he says.
It's sorely needed, he says. An early version of the script included a black-face party, but he took it out because he thought it was too far-fetched, only to discover post-production that there were numerous incidents of such parties.
While it's the Sundance dream to return home with prizes and distribution deals, Simien prefers not to make predictions.
"I don't know what the life of the movie is going to be after Sundance. I would love to come back and screen it at Chapman and all kinds of colleges," he says. "It really is a college movie. I'd love to have that dialogue on a college campus."
Dear White People grew from a Twitter handle to Sundance fame, so Simien says it's only natural that he keep up the social media banter during his time at Sundance. Follow him on Instagram, Twitter and Facebook.