Imagine a close up shot of this: A man walking alone and maybe a tad too far into the blistering desert heat with nothing for company but a silent herd of empty old trains.

An unnerving scene from a vintage
Twilight Zone
episode? No, but it was definitely creepy, says Cyrus Kowsari '14.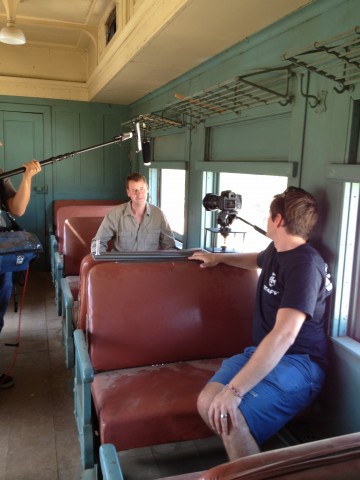 "All these really old decaying trains. It was surreal," says Kowsari, a senior film student in Dodge College of Film and Media Arts.

Thankfully, that dusty interlude was just a brief part of Kowsari's first stab at creating a relatively new genre of book advertising – something called a
book trailer
, a necessary tool in the kit of authors selling books in today's competitive media market. Kowsari's scouting expedition to find a setting reminiscent of America's love affair with trains was one of the early steps in filming an official trailer for
Train
, the latest book from author and journalist Tom Zoellner, associate professor in the Department of English.

Train
journeys through the romance and history of railroads, as well as their cultural and economic influences around the world. In researching the book, to be released Jan. 30, Zoellner rode trains throughout Britain, India, Peru, China and across the United States. In the United States it's a history that is not so very distant, he says.

"We've forgotten just how potent this method of transportation can be. L.A. got rid of its trolley cars, the old Pacific Electric Electric Red Cars in the 1950s, but Southern California retains sort of an armature of a railroad town. It's easy to forget, for example, that the city of Orange was founded essentially by the Santa Fe Railroad," Zoellner says.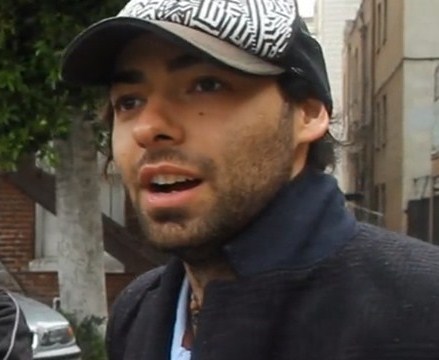 Though both Amtrak and Metrolink trains rumble right past campus along the historic lines laid by Atchison Topeka and Santa Fe Railway, Zoellner and Kowsari trekked out to the
Orange Empire Railway Museum
in Perris, Calif., to film the trailer – following Kowsari's solo scouting expedition.
Kowsari's film credits
are numerous, and his short
The Color Christmas
took the audience award for Best Short Film at the Palm Beach International Film Festival, winning entry into the prestigious
LA Shorts Fest
last year. But this undertaking was a different style of filmmaking, requiring him to mesh his filmmaker's vision with the author's, Kowsari says.

"When we work on our projects at Dodge, we very much try to set the parameters. It's very much our project, start to finish," he says. "Whereas this was a little bit different. On this project with Tom, it was his baby and I wanted to create his vision. I wanted his input."

Both filmmaker and author are delighted with the final trailer, which has an atmospheric and old West feel about it.

"Cyrus had a tremendous grasp of the vocabulary for creating a sensibility and a mood" that connected with the book's theme, Zoellner says. "It has a certain sort of gravity to it, the sense of drama."

One small detail nags him, though.

"I've got a face for print," Zoellner says with a laugh. "It's a little weird to see myself in there. I'm not really comfortable being the pitchman, but it's expected."