The Rice-a-Roni seemed like a good idea at the time.
Students helping out with one of the first Wassail Banquet and Concerts at then Chapman College thought a bit of snow might add a seasonal touch. Their Southern California solution was to sprinkle Rice-a-Roni over the singers and ta-dah – snow. Noisy snow.
"They started to drop it from above and you can imagine the noise coming down on the stage. The audience started to laugh and then it got funnier and funnier. It just turned into a monster noise," recalls William Hall, DMA, founding dean and artistic director for the Marybelle and Sebastian P. Musco Center for the Arts and the originator of Chapman University's Holiday Wassail Banquet and Concert.
But the voices and music carried the day and decades later the holiday Wassail is a beloved Chapman tradition, now televised on KCET-TV and one of the county's great holiday customs. This year marks Wassail's 50th anniversary at Chapman, an occasion that will be marked with Hall returning to conduct the hallmark piece that closes each concert – the Hallelujah Chorus Sing-a-Long Finale.
Now, Wassail attendees arrive to a campus decked out in lights, a path of glowing luminaria stretch from the Fish Interfaith Center where the banquet is served to Memorial Hall where the concert is performed.
But the tradition had somewhat homespun beginnings. The inspiration for the concert was sparked the first week of school during his first semester teaching at Chapman, Hall says. He was "making decisions on what to do and how to recruit" when he struck on the idea of an English-style madrigal feast and Christmas concert. Having relocated from Los Angeles only a few years previous, Chapman was relatively new to many Orange County residents and Hall thought such an event would be a good way to showcase Chapman's music program.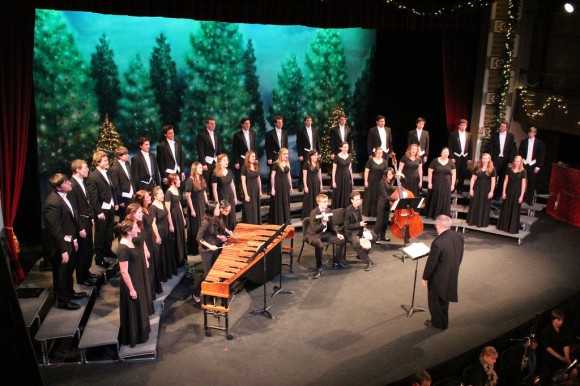 "I thought let's reach out to the community of Orange. Let's see if we can get people and parents involved," he said.
The event took off and grew in popularity, though there were occasional snafus. One year the catering company attempted a dinner of genuine roasted boar, an effort that ended with a last-minute run for take-out chicken. Another year truly authentic seasonal weather – a December deluge – flooded DeMille Hall, where the banquet was served.
But students loved the opportunity to be part of the unique program.
"It was simpler then," said Alvin Brightbill '68, who went on to be chairman of the Saddleback College Music Department and director of its Choral/Vocal Studies for 30 years and still sings professionally. "But it was always a wonderful time."
Sandy McDaniels '84, remembers students cobbling together "a hodgepodge of clothing" to attain a Renaissance look.
"It was a lot of fun because we had an opportunity to interact with the audience at dinnertime," she says. But McDaniels' favorite memory is how they sang one classic carol in particular.
"One of the things I always remember is when we sang the hymn While by My Sheep. It's an echo hymn, in which a quartet of singers would sing on the balcony of Memorial Hall. The choir would file in and sing first and then the quartet echoed from the balcony. The audience would always be surprised," she said.
Today Wassail is more polished than ever, enjoys repeat airing on KCET throughout the holiday season and the dinners are elegantly served in the Wallace All Faiths Chapel of the Fish Interfaith Center. But Hall says he believes the concert's original goal of offering a seasonal tradition to the community has been met.
"We wanted to get people to feel that this is truly a family, a community," he says. "It worked. And I think it still works."
Wassail Ticket Information

The Wassail concert will be performed at 8 p.m. Friday and Saturday, Dec. 6 and 7. The holiday banquet is sold out. Concert-only tickets are $20. For tickets, call 714-997-6812 or order via http://chapman.universitytickets.com.