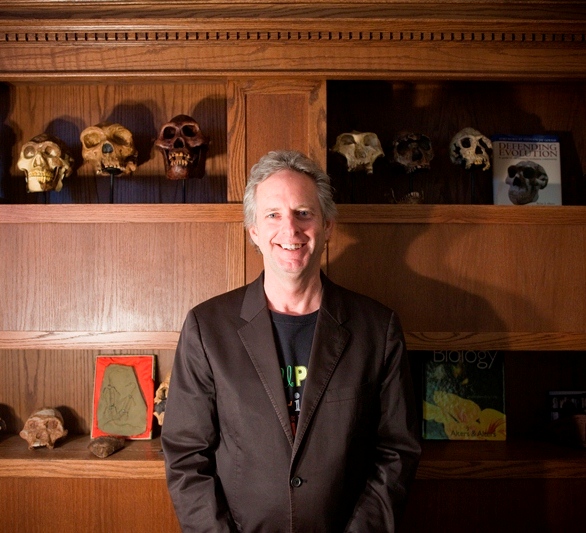 The stories behind those trinkets, artworks and mementos in faculty offices won't show up on their CVs. But the things faculty choose to collect help us see another side of their academic lives. This month in our continuing Office Ours series we feature Brian Alters, Ph.D., professor in the College of Educational Studies. Please send your Office Ours suggestions to pr@chapman.edu.

When visitors step into the office of Brian Alters, Ph.D., professor in the College of Educational Studies and director of the Evolution Education Research Center, they are greeted by some two dozen replica hominid skulls and their toothy chops.

But wait. As if that weren't eye-catching enough, Alters flicks switches and his customized bookshelves slide away to reveal a collection of Disney memorabilia. With a remote control he activates a model train affixed to a track above the bookcases.

What's the deal? It's all part of the all-aboard brand of energy Alters brings to the course Integrated Educational Studies 207, known to Chapman University students perusing the course schedule as "The Pursuit of Happiness and Knowledge: Walt Disney and Charles Darwin."

But there's nothing goofy about it. Alters, director of Evolution Education Research Center, created the course combining his two passions – Darwin, who transformed the scientific world, and Disney, who imagined fantasy worlds. "Science is what is. Disney is what ought to be. Disney has happy endings," says Alters, who joined Chapman in 2010 and holds appointments at McGill and Harvard universities.




And each semester the ultimate Magic Kingdom expert, Chapman Trustee Emeritus Jack Lindquist, the first Disneyland president, pays a visit to the class to talk about the park's history.

But the office display is more than just for kicks. Alters' skull collection reflects his longtime commitment to defending science education and the teaching of evolution in public school science programs. He has been an expert legal witness on behalf of science educators and parents at odds with school boards' efforts to have intelligent design included in science curricula. As president of the National Center for Science Education, Alters has expanded his work to include the defense of climate science when it comes under attack by nonscientific critics.

It's serious work because "scientific illiteracy" is not abating, Alters says. Nearly 50 percent of Americans surveyed in a 2012 Gallup poll said they believed that God created humans in their present form at one time within the last 10,000 years. He doesn't blame religion – many of the world's faith traditions embrace evolution – but rather a lack of science education. The fallout could be a citizenry ill-prepared for real-world issues, Alters says.

"Without an understanding of evolution, they cannot understand processes based on this science, such as insect resistance to pesticides and microbial resistance to antibiotics. Students will not come to understand evolutionary connections to other scientific fields, nor will they fully understand the world of which they are a part. Evolution is, in fact, one of the most important concepts in attaining scientific literacy," he says.

And the Disney element? Both Walt Disney and Charles Darwin were brilliant and intensely devoted to pursuing what made them happy, he says.

"They were both incredibly curious."