It's one thing to grow up in a place and reflect on both its charms and flaws. It's another thing altogether to return to it in your 80s, dive into its history, connect its past with your present and weave it together into a novel that is both intimate and sweeping.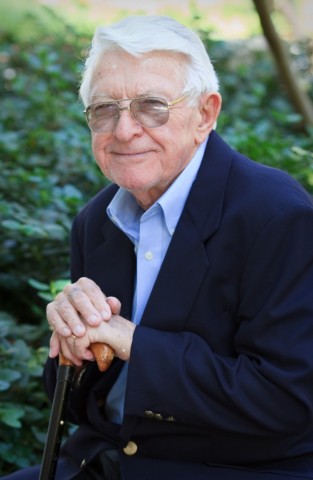 For Kenneth Tye, Ed.D., professor emeritus in Chapman University's College of Educational Studies, there was no question but that the award-winning professor would take the second course, the result being his first novel,
At the Point of the Bay
.

"It's not a bad thing to do when you're my age. My body's 83, my spirit is 12," Tye says with a smile.

What Tye did was write an epic novel set in his childhood home, Port Chicago, on the southern shore of Suisan Bay where the Sacramento and San Joaquin rivers meet. Tye tells that history through colorful characters whose lives play out against the backdrop of California history.

It begins with the Chupcan tribe of American Indians in the early 18th Century, weaves through the mission, rancho, gold rush and bootlegging eras, the infamous explosion at the adjacent Naval facility and culminates in the
U.S. Navy's
takeover and eventual closure of the town.

It is the story of his hometown – there are autobiographical elements in later chapters – but contained in it are universal threads common to the California story, from the busy lives of early natives to the powerful forces of post-war development. It's a shared history that shouldn't be ignored, he says.

"I think our society in general is ahistorical. It can be fun and it's important that we really understand our history. This story is about a place, but in a sense it is also the greater story of California. The same things went on all throughout the state," Tye says.




The idea of the book percolated as Tye kept busy with a long career as a Chapman professor of education and a leader in the global education movement, a career that won him the 2011 Distinguished Global Scholar award at the conference of the
National Council for the Social Studies
in Washington, D.C. The one-time history teacher collected bits of information and jotted down ideas through the years, but had been "throwing them into a drawer" until a few years ago. An avid reader of historical fiction, he decided to give it a try.

"It's more challenging than professional writing in many ways. You have to have deep description and good dialogue," says Tye, who has authored or edited more than 70 professional publications, including seven books.

But now he says he is smitten and is at work on a second novel.

"It's sharpened my eye in terms of being aware," he says. "I am always looking for a story now. And everybody has a story."
Tye will discuss and autograph copies of his book on campus Thursday, Sept. 19, from 11:30 a.m. to 1 p.m. at the Agora Gift Shop in Argyros Forum and Friday, Sept. 27, from 4 to 6 p.m. at Librería Martinez de Chapman University, 216 N. Broadway, Santa Ana. Both events are free and open to the public. Reservations are requested at Librería Martinez and may be arranged by calling (714) 973-7900.