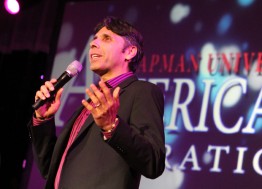 To work alongside Tony Award-winning producers, create a new Broadway musical, team with equity actors and musical theater professionals, and support a non-profit workshop experience for high-school musical theater students sounds like a dream way to spend your first summer out of college, but for a group of lucky Chapman University graduates and students the dream is a reality.  Chapman alumnus Tim Kashani '07, a successful Broadway producer and entrepreneur, and his Broadway-veteran wife Pamela Kashani are passionate about enriching the experience and training of young theater students.  Together they created the five-week, non-profit program Bridge 2 Broadway and hired 11 Chapman students and graduates to support the program and earn real-life experience of immeasurable value.
The Kashanis earned their Broadway chops producing the 2009 revival of Hair and the original musical Memphis, with both musicals winning Tonys. Their Bridge 2 Broadway concept is a joint venture between their nonprofit, Apples and Oranges Arts, and the Orange County High School of the Arts (OCHSA) to give aspiring student actors and theatre technicians the opportunity to study with Broadway professionals and earn
real-world experience.  Tim Kashani was honored with Chapman University's prestigious Alumni Lifetime Achievement in the Arts Award at the university's 2011 American Celebration gala.
Debuting in the summer of 2011, Bridge 2 Broadway began as a month-long student workshop. This year the stakes have been raised and students will culminate their workshop experience through participation in a New Works Festival and the first-ever full production of the new musical Higher Education. This professional production will allow students a chance to see behind the curtain as a new musical comes to life. Complete with sets, costumes, lighting, choreography, and a live orchestra, Higher Education will run two weekends in July (12-14, 19-21) at the Margaret A. Webb Theatre in Santa Ana.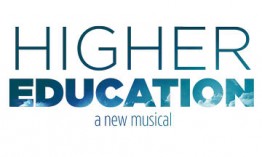 Higher Education will be directed by Tim Kashani, who received his Chapman MFA in 2007 in film directing, with incoming Chapman MFA film student Danielle MacInnis serving as assistant director. Recent BFA dance graduate Katy Talon will be onstage as a dancer in Higher Education,  and incoming freshman Anna Belmer has a principal role in the show, as "Prism." Haik Katsikian, Molly Maier, Bryce Anderson, Chaz Silva, Christopher Sepulveda, Sarah Wilson, Kadyn Michaels, and Spencer Reed round out the Chapman-affiliated roster of Bridge 2 Broadway's production crew and outreach and marketing team, making the upcoming run of Higher Education a true source of Panther Pride!
Bridge 2 Broadway began workshops on Monday, June 17. Performances of Higher Education are Fridays (July 12 and 19) and Saturdays (July 13 and 20) at 7:30 p.m. and Sundays (July 14 and 21) at 2 p.m. The
Margaret A. Webb Theatre is located at 801 N. Main Street, Santa Ana, CA 92701. Tickets can be purchased at www.bridge2broadway.org.
Behind the Scenes: Bridge 2 Broadway and the Musical "Higher Education"