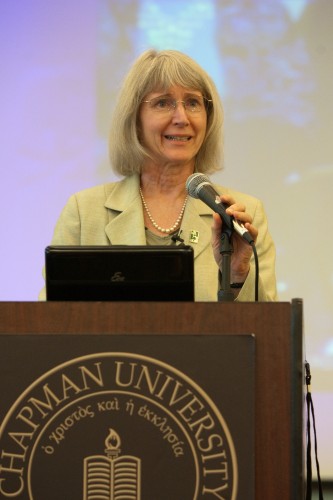 Eugenie Scott, Ph.D., a frequent speaker at Chapman University and executive director of the
National Center for Science Education
 (NCSE), has announced that she is retiring after 26 years as the organization's CEO. Scott will be the featured speaker at the College of Educational Studies' C
ommencement
Saturday and will be awarded an honorary doctorate.

Chapman University Professor
Brian Alters
, Ph.D., College of Educational Studies, and president of the organization's board of directors, said Scott's work on behalf of science education has been transformational.

"It's not going to be easy to fill the shoes of someone who has done so much to make NCSE into the respected and admired organization it is," Alters said.

During Scott's time at NCSE she was honored with numerous honorary degrees as well as the Public Welfare Medal from the
National Academy of Science,
the inaugural Stephen Jay Gould Prize from the Society for the Study of Evolution, the Public Service Award from the National Science Board, and the Scientific Freedom and Responsibility Award from the American Association for the Advancement of Science.

The NCSE is a not-for-profit organization dedicated to defending and supporting the teaching of
evolution and climate science
in public school science education.