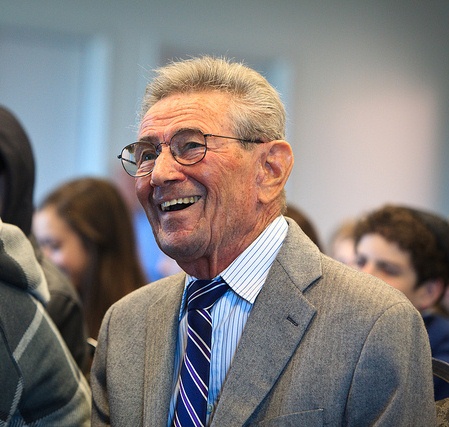 Leon Leyson, one of the youngest children on the legendary
Schindler's List
, who in the later years of his life devoted his time to recounting his Holocaust experience for countless Chapman University students, died Jan. 12 after a lengthy battle with lymphoma. He was 83.

The world knew him as very possibly the
youngest Schindler's List survivor
. As a child he had to stand atop a box to reach the machinery in the factory of the German industrialist who saved 1,100 Jews from the Nazis by claiming them to staff his factories. But at Chapman Leyson was also a friend and teacher who poured out his story and memories of
Oskar Schindler
so that others might learn what ordinary people can do in extraordinary situations.

"Chapman was one of the very first places where Leon told his story. He always spoke without notes with total genuineness, unaware of how compelling a speaker he was," said Professor Marilyn Harran, Ph.D., director of the
Rodgers Center for Holocaust Education
and a friend of Leyson. "Leon educated young people around the nation and in Canada by sharing the story of 'little Leyson,' as Schindler called him. He contributed more to our Chapman University program in Holocaust education than I can ever describe."

Born Leib Lejzon, Leyson and his family were living in Krakow, Poland, when the Germans invaded and ordered the city's Jews into ghettos. He was 13 when his father brought him into the factory of Oskar Schindler, the German businessman portrayed by Liam Neeson in Steven Spielberg's Oscar-winning movie. Because they were protected by Schindler, he and his parents, older brother and sister survived the war. Two other brothers and all of Leyson's extended family were killed.

After the war Leyson immigrated to the United States, served in the U.S. Army during the Korean War, attended college and went on to become a teacher at Huntington Park High School, where he taught industrial arts and was a guidance counselor.

Only after a
Los Angeles Times
reporter searched him out following the 1993 film premiere of
Schindler's List
did Leyson begin to speak of what he and his family endured during the Nazi occupation. Leyson was a frequent speaker and guest at Chapman, where he spoke to classes and student gatherings, as well as Rodgers Center events. He was always surprised by the impact his talks had on listeners, Harran said.

"The standing ovations he routinely received left Leon stunned and humbled. He never thought he deserved them: he always did," she said.

In recognition of his many contributions, he received an honorary doctorate from the university at the May 2011 Commencement. A memorial service celebrating his life is planned for Sunday, Feb. 17, at noon in the Fish Interfaith Center, Wallace All Faiths Chapel. Donations in his memory may be made to the Leon Leyson Memorial Scholarship Fund.