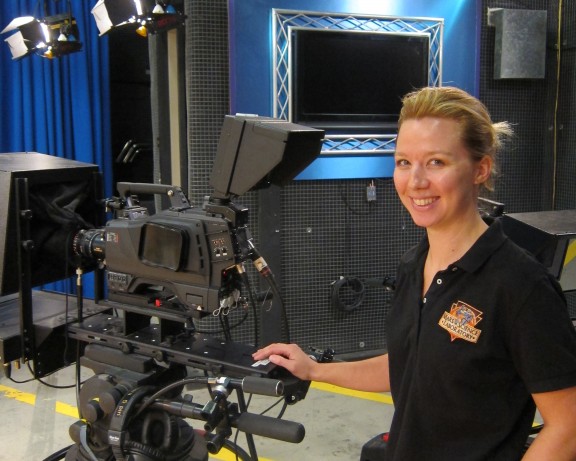 If you watched coverage of the Mars rover Curiosity this summer and relished the sight of all those blue-shirted NASA engineers hugging and crying upon its landing, you saw the work of a Chapman University alumna.
Cinematographer Jillian Arnold (MFA film production '07) was behind that camera, capturing those memorable sights for broadcast live around the world, from the giant electronic screen of Times Square to news channels everywhere. Arnold is one of the filmmakers hired by NASA to document its work; she was chosen to chronicle the landing of Curiosity in August.
"When I found out it was playing in Times Square, I had to put that out of my head," she says.
NASA has long excelled at telling the human story behind space exploration. Decades of iconic images – Apollo 14 Commander Alan Shepard hitting golf balls on the Moon, shuttle astronauts displaying zero-gravity hairdos, grim-faced engineers riveted to their computers – were caught because someone with a camera was on the job. In capturing the night of Curiosity's success, Arnold says she knew she was upholding a great tradition.
"That mission was just so important to me, as well as to the people at JPL. I visualized that mission, both the good scenarios and the bad scenarios. And I tried to experience all that emotionally, so I would be spent of it later," she says. Then she laughs. "But it didn't work."
For the first time in her career, she cried through an entire shoot. But Arnold's camera kept rolling, through all the tense moments of the landing, the infamous "seven minutes of terror" as engineers endured the time it takes to transmit the rover's wellbeing, the jubilant "all clear" moment.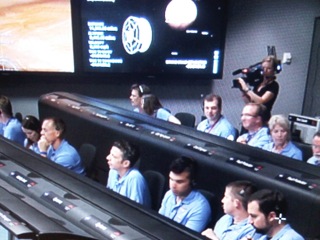 "I knew that everyone in that room was doing everything they could to make it a success and I wanted to make sure I was doing everything I could, too," says Arnold, who also teaches electronic cinematography at Dodge College of Film and Media Arts.
Among the other events Arnold has covered is the landing of the Phoenix rover and two comet flyby missions, as well as many spacecraft tests. Because it was assembled locally at Jet Propulsion Laboratory, Arnold shot a variety of Curiosity's live tests, including multiple parachute drops, which proved critical to fine-tuning its landing. And there are plenty of day-to-day assignments, too, including filming lectures and scientific conferences at JPL.
Arnold also has film and television credits, including on CBS's Big Brother. But she likes to tell her students to think beyond Hollywood.
"There are jobs in places that you don't think about at first," she says.
So what assignment could possibly bring a bigger audience than a dramatic landing on the red planet? Maybe an Olympics, she says.
"I shoot things that happen once, they cost millions of dollars and I don't get a trial (run)," she says. "Nothing really scares me anymore."